The Queen Mary began it's suite life in May, 1936, rolling into the water off Southhampton, England — the same place from which the Titanic departed in 1912 — charged with "spreading friendship among nations."
At that time, only nine years after Lindberg, but the same year Pan American Airways inaugurated Trans Atlantic flights, the Queen Mary was, without question, the most luxurious way to get from America to Europe yet conceived. For three highfalutin years, the ship carried heads of state and celebrities in an iconic style that seems almost other worldly today.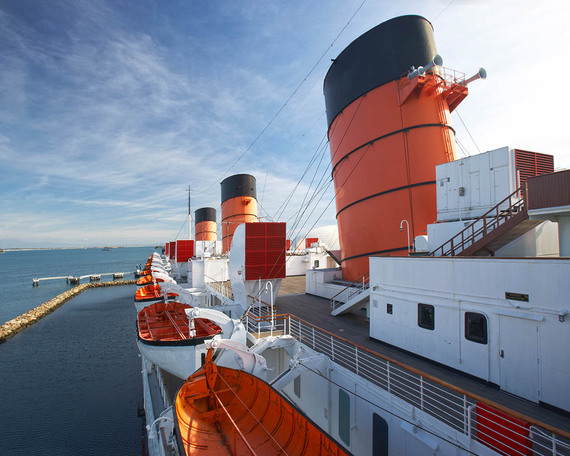 As Hitler marched into Poland in 1939, The Queen returned to dry dock and was stripped of her luxuries, and made over into a gray-painted, nondescript troop transport, instantly becoming the fastest way (30 knots) to get up to 16,000 troops across the pond.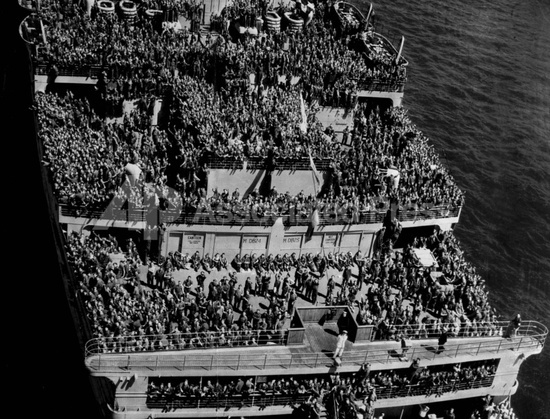 After the good guys won WWII, the ship was remade back into a luxury liner with five dining areas, two cocktail bars and pools, a squash court and a Grand Ballroom and continued to ferry the very rich and famous over the Atlantic for another two decades until inexpensive air travel sealed her fate.
Her last voyage ended in Long Beach, CA in 1967, and the stately Queen has been THE luxury floating hotel of California ever since, supplying fans of nostalgia scrumptious gulps of yesteryear along with plush lounges, restaurants and incredible vistas.
I'd seen her from afar, but not being a "Boat Guy," never felt compelled to come aboard. Until we heard about their New Year's Eve party. We decided to ring out 2013 like it was 1939!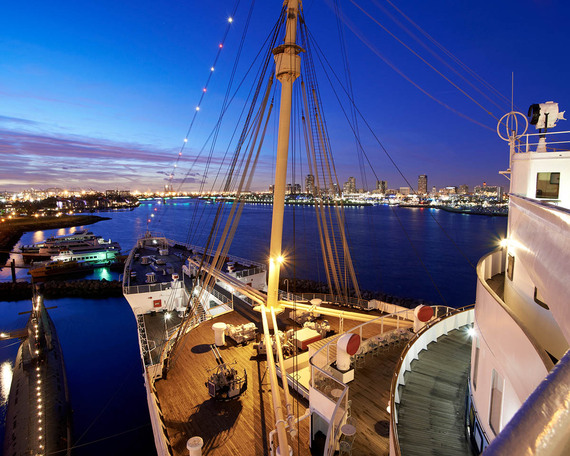 The best way to absorb the Queen Mary for New Year's is to book a room for the night. Sadly, they go fast, so we were just coming aboard for the night and had our Uber car lined up for a safe ride home.
We dressed like we were in a black and white depression era Hollywood movie — suits, vests, ties, gowns — and that was just me. Yeni was gorgeous too. We parked the car and were confronted with the monstrous glory that is the Queen up close.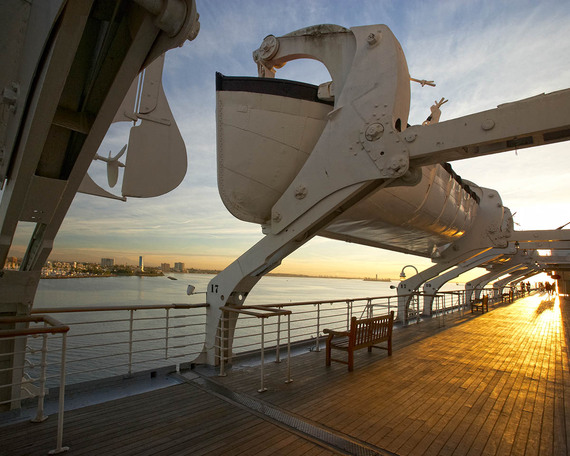 The three large public decks were stuffed with revelers in all their glory. Food, live music, DJ's, and cocktail bars dotted the historic landscapes. The feel really was timeless, and soon we felt like we were "back in the day."
Each Salon boasted its own theme and live entertainment: The Grand Salon featured a jump swing band. The Queen's Salon featured a retro NYC club, complete with disco and hits (you hate to admit you know by heart) from the '70s and '80s.
There was a hookah lounge, belly dancing, Indian food, a great Brazilian band (Delta Nove Brazillan Band), DJs of every stripe, Moulin Rouge dancers, free flowing champagne, (for the VIP's) and a midnight fireworks show that is probably STILL going on.
We partied under the stars on the enormous Veranda & Victoria Decks, danced the Samba in the Royal Salon and sipped champagne as we chatted with other decked out passengers. It was a glossy, fancy New Year's Eve — something totally different than we'd ever experienced before.
The staff and crew of the Queen Mary are able to take their gorgeous and unique ship and make everyone feel like a loaded industrialist pal of Henry Ford. But the best part of the night, they never saw coming.
It happened about 2 a.m. We were done with dancing, drinking and hell-raising, and decided to rest in the small piano bar at the top of the main entrance grand stairway before calling our Uber cab. Paneled in rich wood, virtually reeking of Oceanic Class, its like hotel bars we've all spent time in, except this one used to sail the high seas, hosting the most prominent families of the 20th century.
But now, in the wee hours of a brand new year, all the professional entertainers had packed and gone, leaving only the hard core party crew. Exhausted, intrepid adventurers — just like back in the day — only these travelers had arrived in SUV's with back-up video and parking assist computers. The common element connecting us to the previous denizens of this lounge was the need to explore and search out novel and exciting experiences. Luckily, there one still one adventure left in our night.
The piano that sits in the corner of this lounge has been aboard ship since 1939, an original artifact. Prominently displayed on top of it is a large sign proclaiming this fact, concluding with the politely worded "in an effort to preserve this piano, we ask that it not be touched or played."
The grand instrument sat silent and alone, as if it were begging a drunken, and seemingly unescorted, woman to plop down and ruin "Heart and Soul." Which is when the entertainment began:
Remember, this WAS post-bar closing on New Year's Eve, so the fact that this lady was still upright and able to move her fingers was amazing in itself. But what happened next was even better.
A guy got up out of the crowd, sat down with her, and within moments, galvanized the crowd into a rowdy bunch. He deftly segued from "Heart and Soul," moved the woman back on to her wobbly stool, then took over the room, using just his fingertips — and, Lennon & McCartney.
And with that, a well-produced, slick evening on the high seas, was transformed into a magical night. A night un-planned, and that no one will forget. A lounge full of boozy strangers condensed into a happy, cohesive choir, simply by the talents of one lone lounger. A testament to the power of music, the sentimental patina of a New Year, and the stately glory of a Queen.
Happy New Year indeed!
Listen to our weekly Travel show, the web's number one Travel & Foodie entertainment talk show, A FORK ON THE ROAD, with new episodes premiering every Thursday.
Link to article: www.huffingtonpost.com/mark-decarlo/2014-meets-1939_b_4569451.html?utm_hp_ref=travel&ir=Travel