23 Latin American Destinations That Prove There's A Lot More To See Than Rio And Buenos Aires
It's no secret that Latin America houses many of this planet's most jaw-dropping destinations. Spotlight countries such as Brazil continue to be among our favorites due to the beautiful beaches, cities and colonial sights that easily captivate those who find themselves in constant wanderlust.
You know about Buenos Aires, Rio and Machu Picchu — these places are indeed unmissable, and at some point you should probably [most definitely] pay them a visit; but what about the other places you should consider when traveling to Central and South America? Well here they are, all but screaming your name and promising to surpass your every wandering expectation.
By the end we imagine you'll be saying something like, "Europe who?"
1. Cartagena, Colombia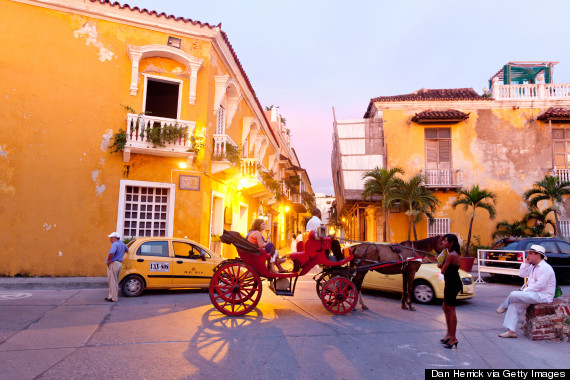 A port city on the northern coast of Colombia that is bound to both relax and charm you. Enjoy the beaches, visit the old Spanish forts or plan a trip for New Year's to experience a truly festive celebration by the ocean.
2. Isla Margarita, Venezuela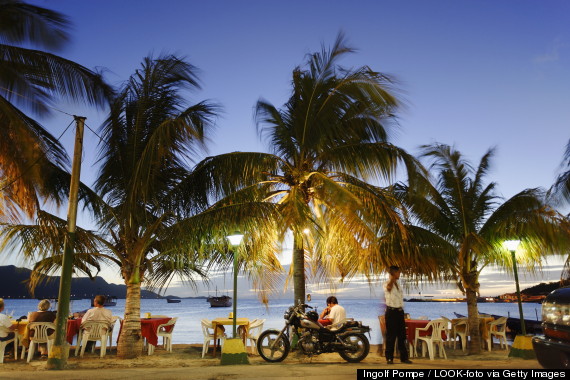 Just a half-hour flight from the capital city of Caracas lies a beautiful Caribbean island in the state of Nueva Esparta for your exploring and swimming pleasure. Dive in, do some fishing and enjoy.
3. Punta del Este, Uruguay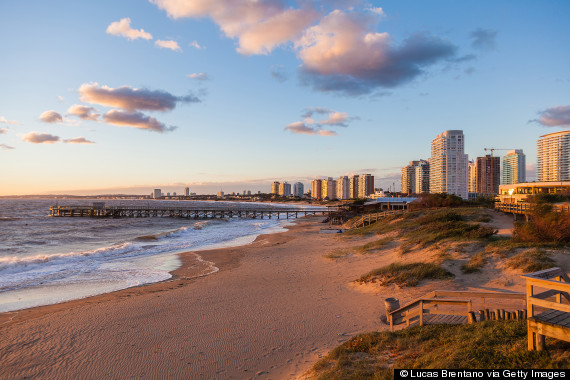 If you've ever looked at pictures of Uruguay, you've probably come across some of a huge hand popping out of the sand. Oh, you haven't? Well, you should probably go see that hand. And you know, maybe as a side note, visit a few beaches along the way.
4. The Great Blue Hole, Belize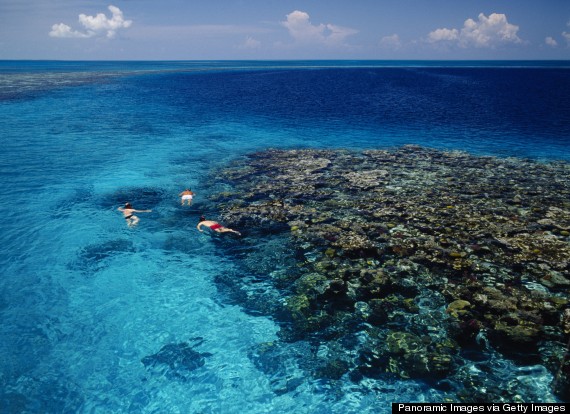 This submarine sinkhole is considered one of the best scuba diving sites on earth. It became famous through Jacques-Yves Cousteau, and apparently he knew a thing or two about diving so… Also nearby, poke around the second largest reef system after the Great Barrier.
5. Lake Titicaca, Bolivia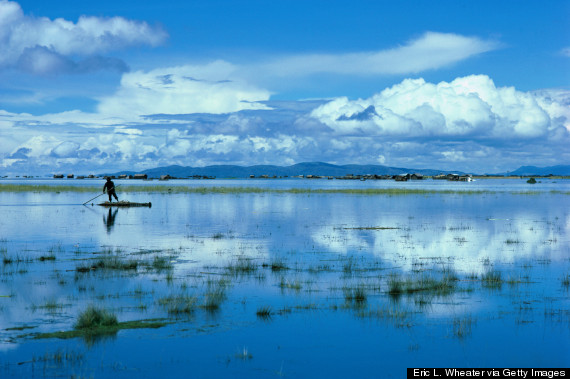 A beautiful lake set in the middle of the Andes that borders both Peru and Bolivia is the only backdrop you need to take in the view of a lifetime. Pro-tip: go on a particularly clear day to catch the sky's near perfect reflection in the lake's water.
6. Torres del Paine, Chile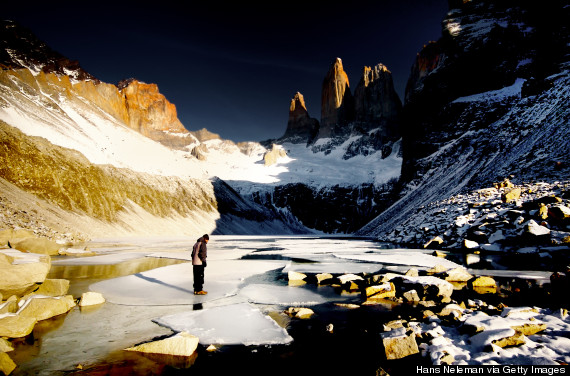 Welcome to Chilean Patagonia — mountains, glaciers, rivers and lakes… Oh my! In this glacier national park you can camp, you can hike, you can kayak, and then you can wake up the next morning and do it all over again.
7. Viña del Mar, Chile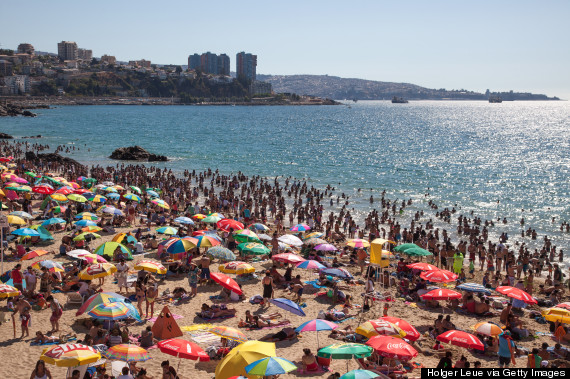 This pleasant beach town lies on Chile's central coast and draws travelers to its waters, sand dunes and colorful disposition. Take in a surfing lesson or visit famous poet Pablo Neruda's house in nearby Valparaíso.
8. San Carlos de Bariloche, Argentina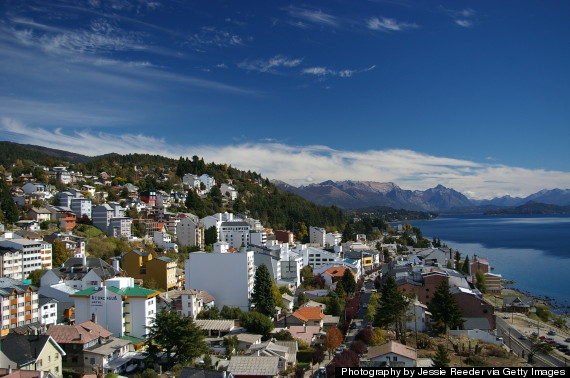 Get ready for chocolate, lots of chocolate. And skiing the Andes. And St. Bernard dogs strolling around the town plaza on the regular. This Swiss-influenced escape in Argentina's Patagonia promises it all, and then some.
9. El Calafate, Argentina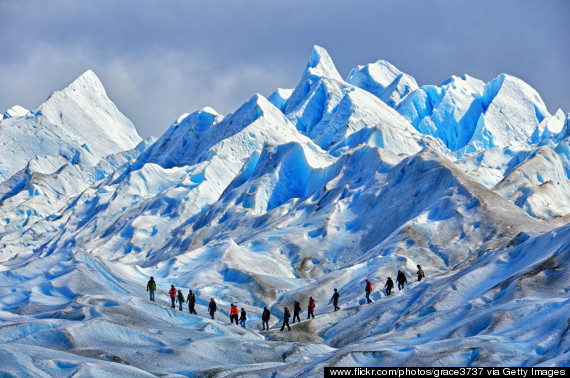 Glacier City, Argentina. This wintery gem sits on the heels of Los Glaciares National Park, meaning you're in for a whole lot of ice and trekking. Don't forget to check out Perito Moreno, one of their most famous glaciers. Happy trails.
10. Tikal, Guatemala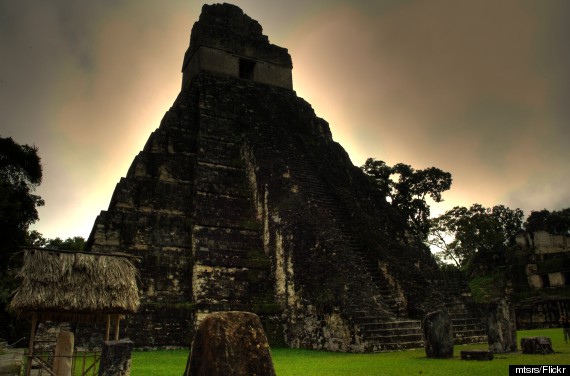 These Mayan ruins in Guatemala are a cultural and historical MUST. A World Heritage Site situated between thick layers of jungle is sure to fascinate any traveler in its midst. And you thought you'd never make it to Guatemala…
11. Cuzco, Peru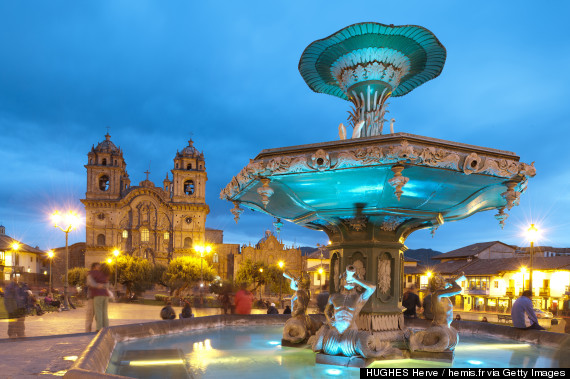 If you have plans to trek to Machu Picchu, you'll most likely stop at this former Incan capital along the way. Cuzco has enough old world charm, stunning architecture, alpaca sweaters and pisco sours to deserve a night or two of your time. Note: you may get dizzy from the altitude, but they've got a tea for that.
12. Angel Falls, Venezuela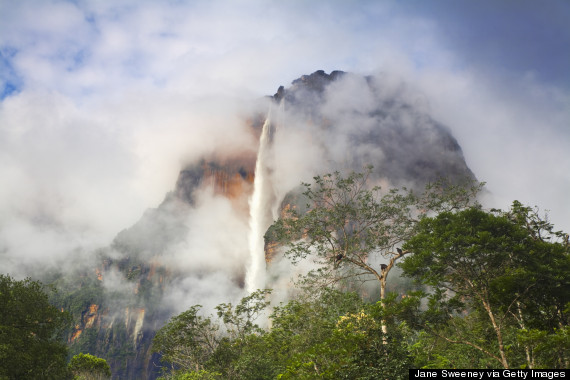 Veer off the beaten course for a little adventure and a lot of adrenaline. The tallest waterfall in the world at 3,212 feet promises just that. Take in the views via helicopter, only then will you fully capture the thrill and immensity of this natural wonder.
13. San Pedro de Atacama, Chile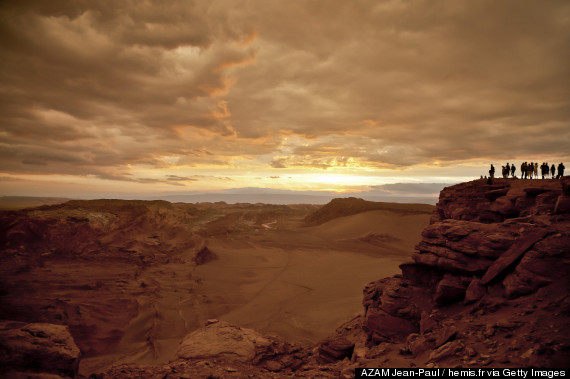 You, riding horseback through the desert, nothing but red canyons and sand for as far as the eye can see. They call it the driest place on earth, you'll call it the desert escape you never thought you needed. Don't worry, plenty of hotels and spas here too.
14. Galápagos Islands, Ecuador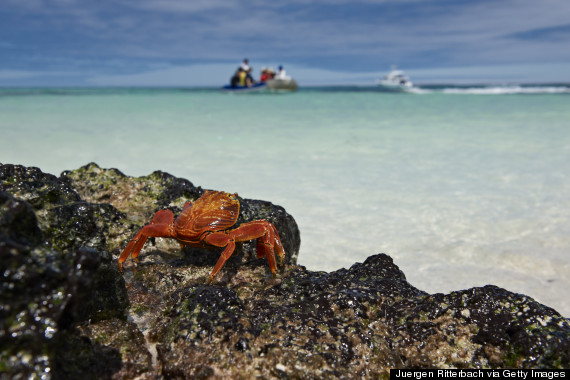 An archipelago with perhaps the most fascinating bio marine reserve in the southern hemisphere. If the nineteen islands of sandy beaches don't do it for you, come for the unique animal life they got going on down here: Giant tortoises and land iguanas anyone?
15. Easter Island, Chile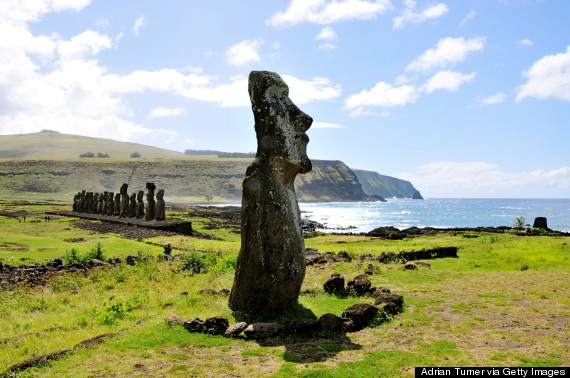 A Polynesian island in the southeastern Pacific situated a couple thousand miles west of Chile's central coast. Not the quickest or easiest place to get to; but the hundreds of Moai statues unparalleled anywhere else in the world make it worth the trip.
16. Taganga, Colombia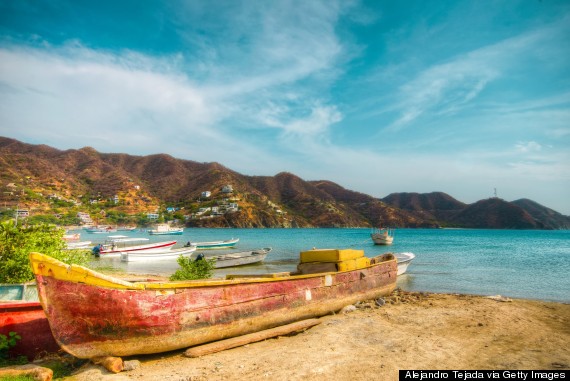 A fishing village turned vacation hub due to its remarkable scenery and surroundings, including the nearby national parks of Sierra Nevada de Santa Marta and Tayrona. In short, island exquisiteness that won't burn a whole through your pocket. Yes, please.
17. Arequipa, Peru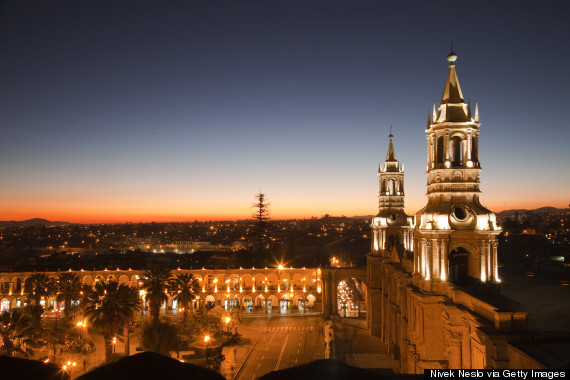 Located on a high plateau in the middle of the West Andes, Arequipa is the second largest city in Peru after Lima. It holds the nickname "la ciudad blanca," meaning "the white city." It's mostly built out of sillar, a type of white volcanic stone.
18. Bocas del Toro, Panama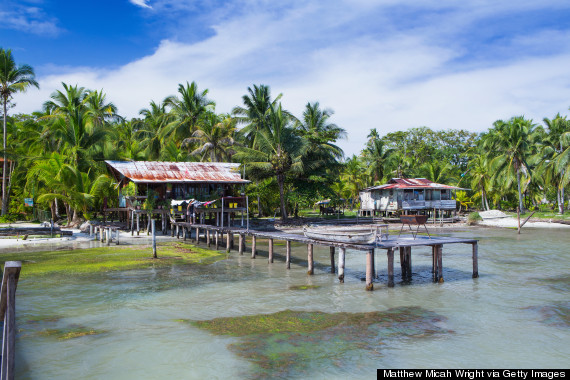 If you find yourself longing for a truly tropical location, look no further than this stunning archipelago that promises natural beauty and some killer snorkeling. Not sure what you're waiting for… GO! And maybe swing by the Panama Canal while you're down there.
19. Monteverde Cloud Forest Reserve, Costa Rica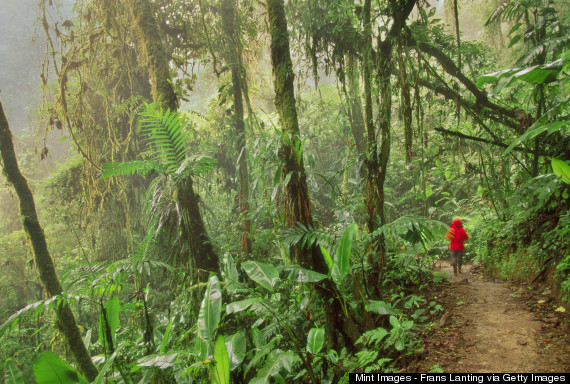 Ever imagined what it would be like to walk on the clouds of a rainforest reserve? Well dream no more, just follow the red bridge path and/or zipline into the depths of your happiness…
20. Los Roques, Venezuela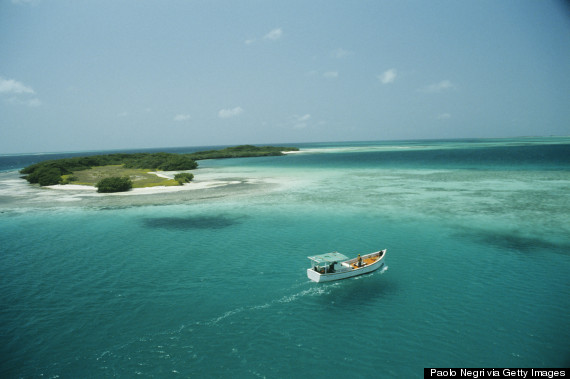 Los Roques is located directly north of Venezuela's main coast, and is made up of approximately 350 islets and cays. Prepare to bat your eyes and swim around in some of the clearest, bluest water that ever was. You are very welcome.
21. Cerro Negro, Nicaragua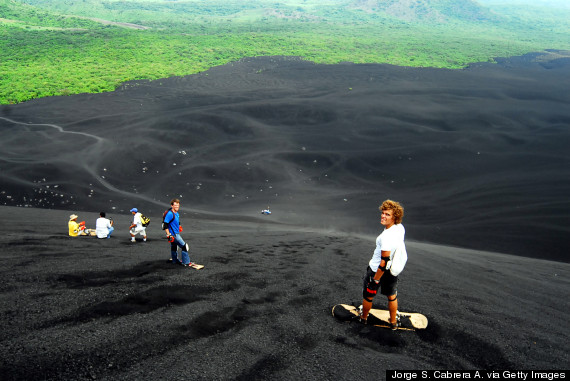 Imagine boarding down the black sandy slopes of one restless volcano in the middle of Central America. Full disclosure: this young volcano is still active, so you know tread with caution; but also: BRING YOUR SANDBOARDS.
22. Granada, Nicaragua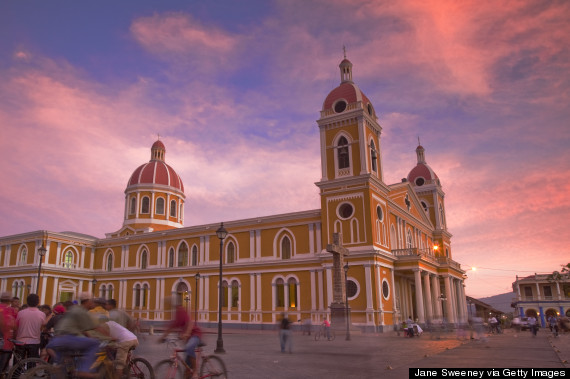 A colonial destination, Granada is the first European town established on mainland America. Explore their open-air markets, beautiful street walk ways and colorful architecture. If you should find yourself outlining the details of your retirement while in town, so be it.
23. Roatán, Honduras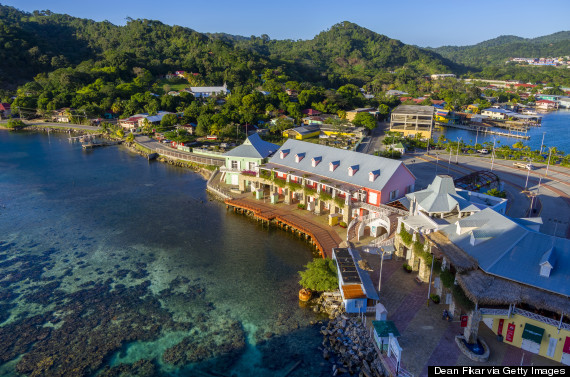 Nicknamed the "big island," Roatán is the largest of Honduras' Bay Islands. Expect warm temperatures year round and excellent diving, because psst: it's not that far from here to the second largest barrier reef on earth. WIN.
Link to article: www.huffingtonpost.com/2014/02/10/south-american-travel-destinations_n_4733206.html?utm_hp_ref=travel&ir=Travel