8 Things to Do in Orlando…Without the Kids
It's no doubt that Orlando is the quintessential kid-oriented entertainment paradise. Mickey and Minnie sightings, splashy water rides, and acrobatic dolphins are fun, for sure, but after awhile, one does need some quality adult time. Thankfully, Orlando has much to offer for those who want a break from the kids, are traveling without kids, or just want to lower the kid quotient. Let our top 8 list of things to see and do for grown-ups show you the way.
1. Get acclimated from the air
With more than 100 attractions to choose from, plus the omnipresence of Walt Disney World, choosing what to do in Orlando can seem overwhelming. So put it all into perspective and see this magical city from the air. Toast the sunrise with a glass of champagne as you float above forests, lakes, and all the theme parks on the Orlando Sunrise Hot-Air Balloon Ride. For a close-up view of the parks themselves, take to the air on a helicopter tour, where you can customize your flight over SeaWorld, Disney, and other parks.
Read more: The Most Inspiring Hot Air Balloon Views
2. Zip around a speedway track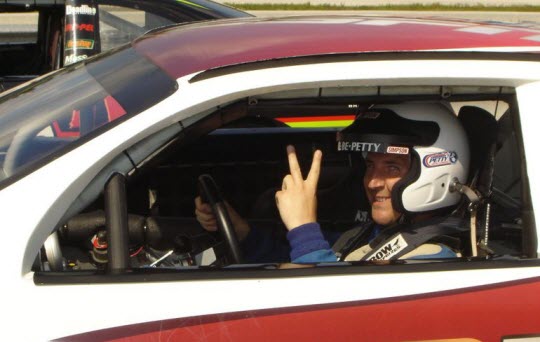 Even if you're not a Daytona 500 fan, you will still get a thrill doing 8 laps around the Walt Disney World Speedway in the driver's seat of a V-8 stock car, with 600hp at the ready. For a more intense experience, speed aficionados can try the Richard Petty Drive Along, which gives drivers 30 laps of heart-pounding speed in 10-lap intervals. You can ride shotgun, if you like, or take the wheel yourself.
3. Have a night on the town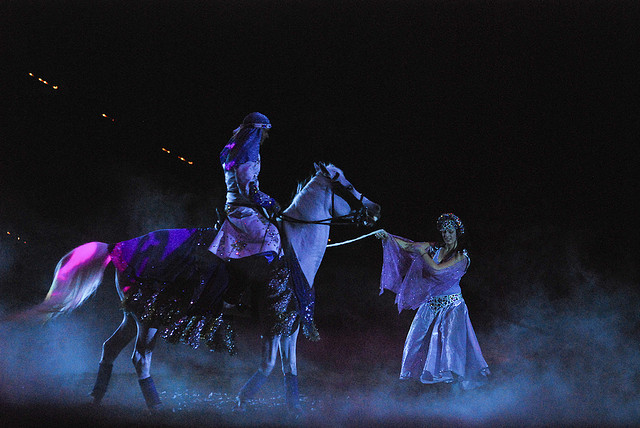 Like its spectacular theme parks for kids, Orlando's after-dark options provide nonstop grown-up fun. See a fairy tale come to life at an Arabian Nights Dinner Show, take in the wild theatrics at a Blue Man Group Show at Universal Orlando, or splurge for a dinner at one of the many upscale restaurants (the more you spend, the fewer kids you'll see). If you want to dance, head to Red Coconut Club or The Groove, two of the top clubs on Universal Citywalk, or catch a concert at the House of Blues or Hard Rock Live. Many of the big hotels also have nightlife scenes, so be sure to check out what's in your hotel.
Read more about the Blue Man Group
Photo credit: Ben Yanis via Flickr
4. Shop 'til you drop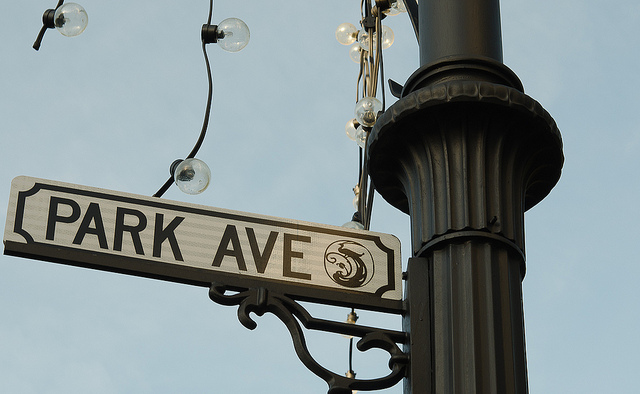 From designer labels to souvenirs, shoppers will find much to browse. Downtown Disney, CityWalk, and International Drive have much of the family-friendly shopping, but for a more sophisticated experience, browse the couture boutiques along the cobblestone Park Avenue in Winter Park. Bargain hunters and antique lovers will find many treasures along Antique Row and Ivanhoe Row on Orange Avenue in downtown Orlando. Galleries and gift shops line Market Street in Celebration, while outlet and mall shoppers will find plenty along International Drive. For a broader scope, try an Orlando Shopping Tour, which will give you a mix of mall and designer shops.
Photo credit: Robert Neff via Flickr
5. Tee off under the sun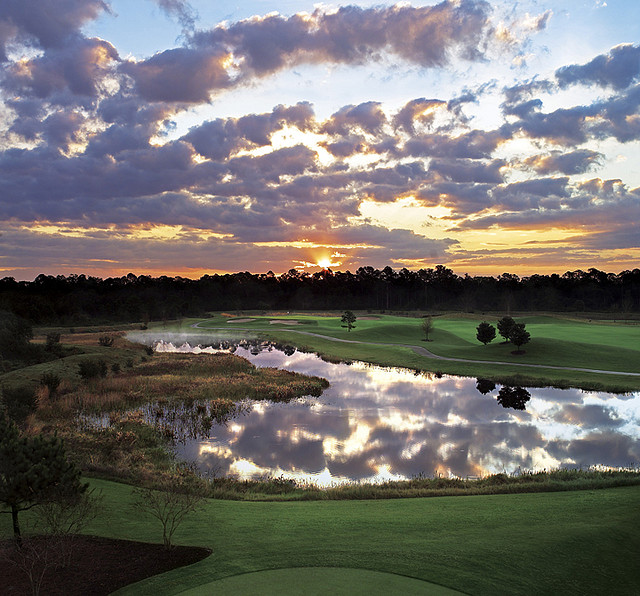 Golfers can choose some 150 sunny greens in Orlando to improve their handicaps. In Walt Disney World alone, there are five 18-hole, par-72 courses. Outside of Disney, try Champion's Gate Golf Club, Grand Cypress Golf Club, or the 45 holes designed by Jack Nicklaus at the Villas of Grand Cypress.
Photo credit: Kissimmee Convention & Visitors Bureau via Flickr
6. Take a thrill ride at Universal Orlando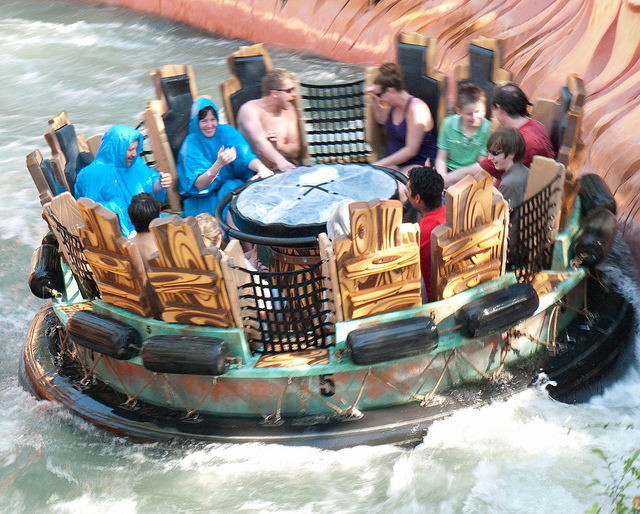 Relive your love of rides in a grown-up way. Try the intoxicating and exciting blend of breathtaking rides, attractions, and cutting-edge special effects and technology at Universal Studios Orlando. Thrill-seekers can test their mettle on the high-speed Incredible Hulk Roller Coaster, overload their senses on the Hollywood Rip Ride Rockit, or zip through the Wizarding World of Harry Potter.
Read more in our Guide to Universal Orlando Resort
Photo credit: Nick Hubbard via Flickr
7. Globe-trot at Epcot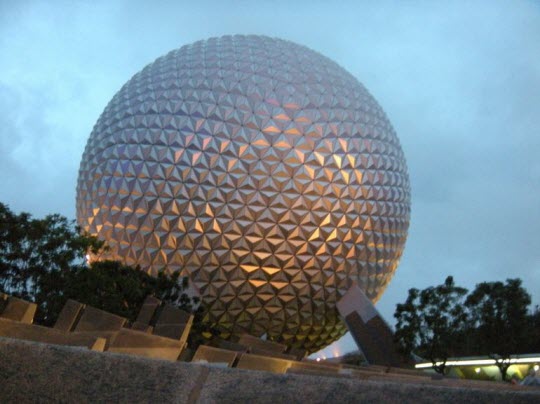 Taste your way through the cuisine of 11 different countries–including Norway, Morocco, Canada, Japan, China, and Germany–in the World Showcase at Epcot. Try succulent pescado a la talla (grilled red snapper) in Mexico, Mediterranean tuna tartar in France, the "Night in Casablanca" sampler (roast lamb meshoui, chicken kebab, seafood bastilla, vegetable couscous) in Morocco, or watch chefs perform at a teppanyaki steak house. Bring your appetite!
Read more: Epcot for Adults
8. Have a rejuvenating spa day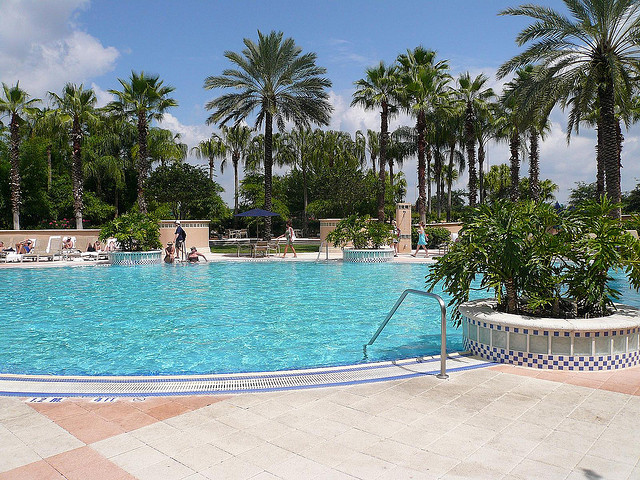 Escape the glitz, the fireworks, and the noise to the serenity of a day spa. Orlando resorts offer a variety of experiences, from orange and lime therapies to treatments from Japan, Sweden, and Thailand. If you want to splurge, immerse yourself in the luxurious Guerlain treatment at the Waldorf-Asotria, or a hydrating body wrap at Ritz-Carlton Orlando Grande Lakes. A stay at the Villas of Grand Cypress is a retreat in itself, as you can not only sequester yourself in a spa but you can wander amid peaceful, lush grounds while passing by lakes, bougainvillea, and hibiscus.
Photo credit: Michael Gray via Flickr
Or relax and swim at the Wekiwa Springs State Park
– William Travis for Viator
Planning a trip? Browse Viator's Orlando tours and things to do, Orlando attractions, and Orlando travel recommendations. Or book a private tour guide in Orlando for a customized tour!
Link to article: www.huffingtonpost.com/viator/8-things-to-do-in-orlando_b_1632578.html?utm_hp_ref=travel&ir=Travel