Flight 587 Crashed In New York City 12 Years Ago Today, Killing 265 People (PHOTOS)
Tuesday marks the 12th anniversary of the deadly crash of Flight 587 in New York City. On November 12, 2001, 251 passengers, nine crew members, and five people on the ground were all killed when the American Airlines Airbus A300 plane, on its way to Santo Domingo in the Dominican Republic, crashed into homes in the Rockaways. Fires burning in New York's Rockaway neighborhood, from the crash of American Airlines Flight 587 that killed 265 people, are visible from a police helicopter, Monday, Nov. 12, 2001. (AP Photo/New York Police Department)
The crash, caused by turbulence from another aircraft taking off from nearby JFK Airport, initially sparked fears of another terrorist attack. Just two months earlier, and only 20 miles away, the Twin Towers had collapsed in Lower Manhattan.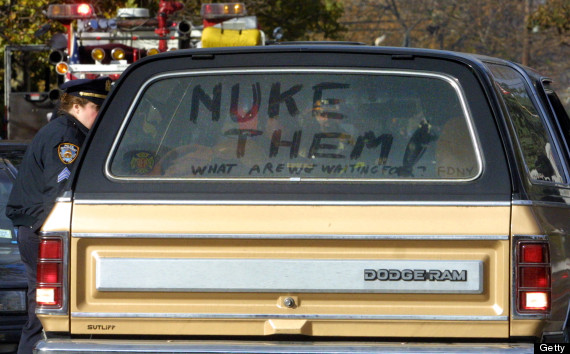 A truck driven near the crash site is decorated with the words 'Nuke Them' after American Airlines flight 587, carrying 255 people, crashed minutes after take off from JFK airport November 12, 2001 in Rockaway Beach, Queens. (Photo by Mario Tama/Getty Images)
The terrible tragedy of Flight 587, which took the lives of mostly Dominicans and Dominican-Americans, is sometimes forgotten in the wake of the September 11 attacks.
A memorial was later built in the Rockaways to honor those who were killed. Francisca Diaz, of New York, bows her head as she honors her mother, Petronila Hierro, her name marked with a flower, at the Flight 587 Memorial in the Rockaway Park neighborhood of the borough of Queens, in New York, Monday, Nov. 12, 2012. (AP Photo/Craig Ruttle)
For more on the 12th anniversary of the crash, go here.
Link to article: www.huffingtonpost.com/2013/11/12/flight-587-anniversary-new-york-city-crash_n_4262066.html?utm_hp_ref=travel&ir=Travel