Grand Architecture, Epic History, Lush Accommodations and Fine Antiques Await in Budapest
I always feel collecting antiques and vintage objects is great way to learn about history. As a lifelong collector and seller, I am constantly learning about the way people lived, the places they visited and the objects they held dear. As I become passionate about a genre or a maker, I'm often tempted to visit the region where some of my favorite objects were made. That is certainly true with my ever-growing collection of Hungarian Art Pottery. It made me want to visit Budapest. Hungary is the country where the great factories Zsolnay, Herend and Komlos created some of my favorite pieces.
The way I see it, a place that creates beauty, must also have a lot of beauty to behold. That theory prompted me to add Budapest to my travel plans, and within minutes of arriving, I knew that I would not be disappointed.
As the cab took us from the airport to the hotel, I began to notice rooftops that resembled the pottery I loved, and architecture that looked like it belonged in a fairy tale. I caught a glimpse of The Danube, the river that divides the city, and the charming bridges that link it together. One side is Buda, and the other Pest. Both are beautiful.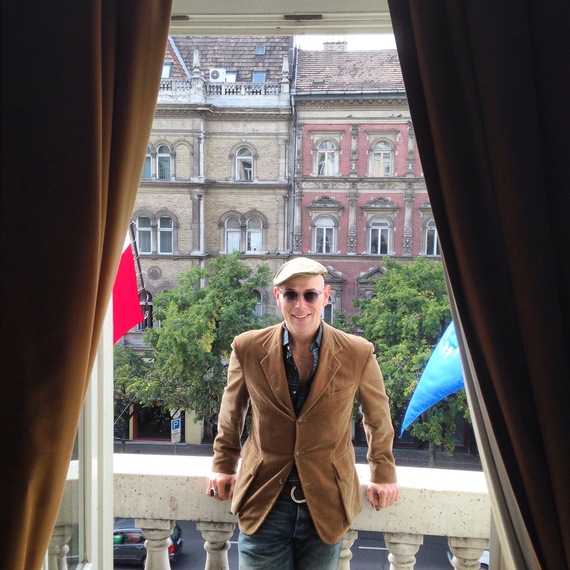 On the balcony of our room at The Corinthia
A Truly Grand Budapest Hotel
Upon arrival at our hotel, I thought about the recent film Grand Budapest Hotel. The Corinthia Hotel is a regal neoclassical structure with both the Hungarian and the EU flags waving proudly outside. Inside the stunning grand atrium lobby, there are several large dining rooms, shops and conversation areas.
As I've mentioned in other pieces I've written, accommodations matter very much to me. I'm a homebody who loves to travel. As such, I need a solid home base that feels comfortable, safe and gives me plenty of elbowroom. The Corinthia did all that and more.
Our suite was well-appointed, with great amenities like an espresso machine, comfy bathrobes, chocolates and bottled water. Our room included a balcony where I enjoyed many a cup of coffee as we planned our days. The in-room dining was superb, and the service was spectacular.
If you add this hotel to your travel itinerary, don't forget your bathing suit. The pool and spa area is the finest I've seen. It is combination of tranquility, luxury and comfort that provided many hours of enjoyment.
I soon realized that The Corinthia was, indeed the inspiration for the recent film The Grand Budapest Hotel, and I can see why. It is among the very best places I've stayed and is a without a doubt a world-class hotel.
Opened in 1896 as The Grand Hotel Royal, it was Europe's first hotel and spa combination. Completely renovated in 2003, the hotel has every imaginable modern convenience, while still retaining its old world charm.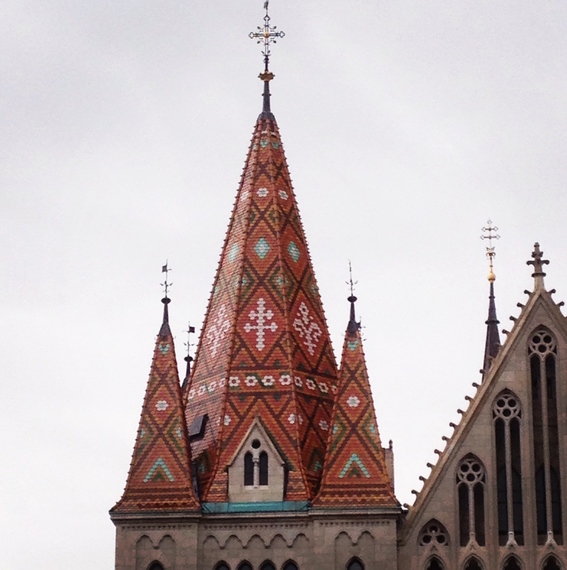 One of Many Rooftops in Budapest with Colorful Zsolnay Tiles
The Rooftops and The Museums
Like all great European cities, Budapest has a plethora of great museums. For the sake of space, I'm listing my three favorites:
Museum of Applied Arts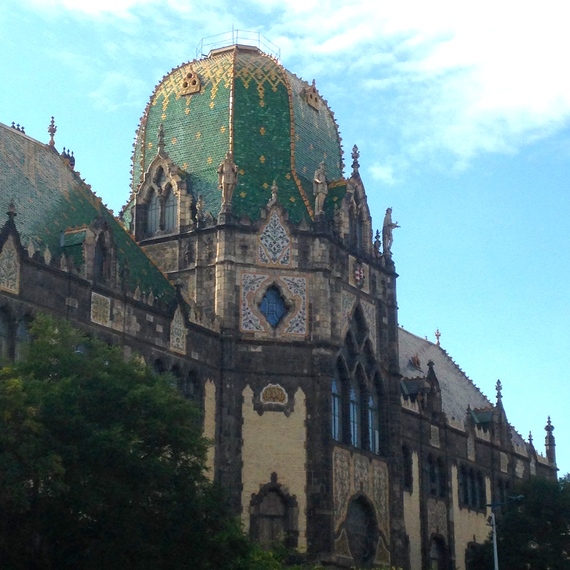 The Roof of The Museum of Applied Arts
This museum had me at "hello." The lovely tiled rooftops were like beacons leading me towards the building. The tiles were made by Zsolnay, which is one of the pottery companies that made me to want to travel to Budapest in the first place. Their grand geometric pattern and inviting colors hinted at the feast that my awaited my senses inside.
As I came closer, I saw that not only the rooftops were tile encrusted, but the ceilings and staircases were as well. Built in 1896 for Hungary's Millennium Celebration, the museum is in the Art Nouveau style, but it also has many Moorish elements that offer up hints of Islamic architecture. It is the third oldest applied arts museum in the world.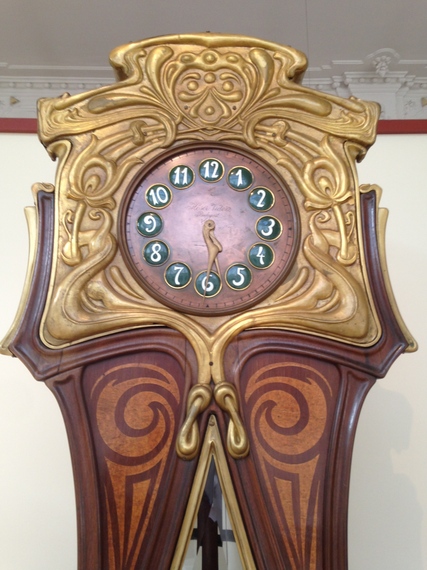 Detail on a Hungarian Art Nouveau Grandfather's Clock
Inside, the museum is filled with pottery, furniture, home furnishings and costumes. Most of the items are Hungarian, but there are a number of French pieces as well.


A Large, Colorful Vase by Zsolnay
Among my favorite items were an Art Nouveau grandfather's clock, a Jugendstil gong, and an exhibit of recently unearthed architectural pottery pieces purchased at the Paris World's Fair in 1900. The French pottery was all by famed ceramicist Alexandre Bigot. As the story goes, the collection, which weighs several tons, won the "Grand Prix" at the Fair and was then purchased by The Hungarian Government and shipped to the museum. It somehow managed to wind up in the basement, where it remained until just a few decades ago.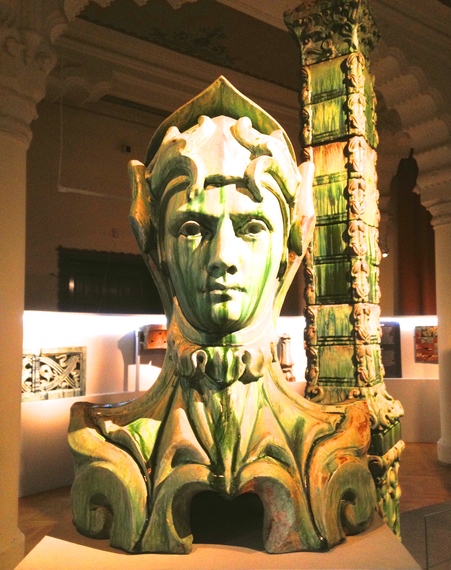 A Architectural Pottery Bust by Bigot
For those interested in decorative arts, this museum is not to be missed. It is a symphony of color, texture and great design. I took more pictures here than anywhere else on the trip.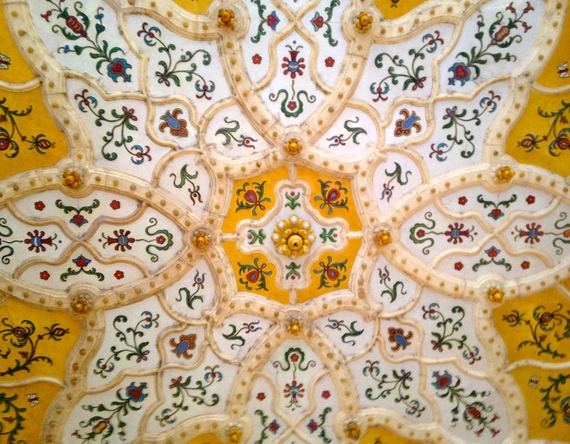 Detail on the Ceiling of The Museum of Applied Arts
Hungarian National Gallery
There is much to love about this museum. First, its location, which is high above The Danube, is pretty amazing. You take a tram up the mountainside to get there and the ride affords a lovely view. The museum itself is housed in the building that was formerly The Royal Palace. As such, its grand scale provides a lovely backdrop for the artwork.
Still the reason I enjoyed this museum so much was that it was comprised entirely of works by Hungarian artists. As such, I got a very real sense of the artistic contributions these artists made. Like a lot of the pottery I love from Hungary, much of artwork had a sense of humor about it, and a good deal of it focused on the working class. That perspective is a refreshing one, considering how many museums are filled with paintings of nobility and aristocrats.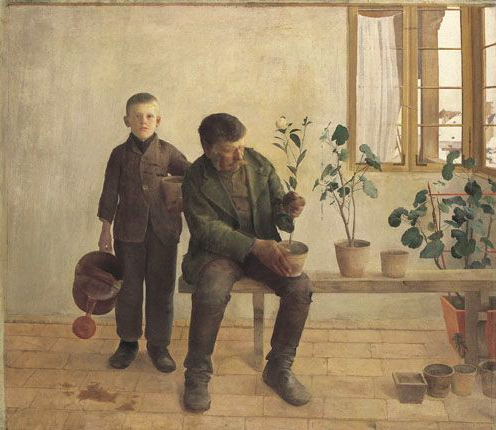 "Gardeners" by Karoly Fereczy, 1891
The icing on the cake for me was that I discovered artists I'd never known about before. My new favorite is Karoly Fereczy. The museum features many of his paintings, each of which feels as if it captured an intimate moment in time. I loved his work so much, I bought a book chronicling his life's work at the museum shop. Unfortunately, it's all in Hungarian, but I am happy to have the visual references.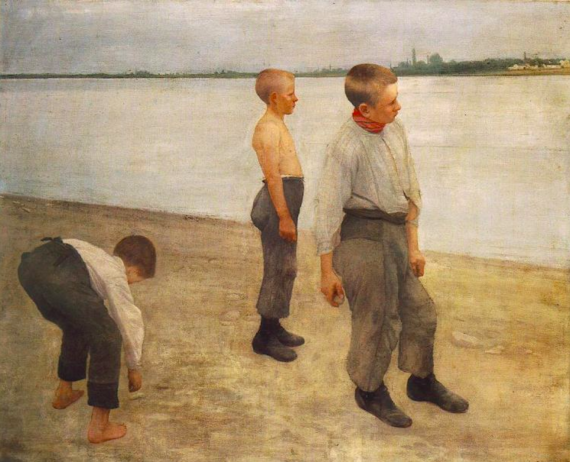 "Boys Throwing Pebbles" by Karoly Fereczy, 1890
The Terror Museum
At first glance at the name on this museum, I thought it would be a tourist trap filled with rusty chastity belts and torture devices. I was wrong. This fascinating place, housed in the building that was home to The Secret Police, is, as its name suggests, truly terrifying.
It provides a unique opportunity to understand the hardships that Hungary faced over the past 75 years. From World War II through The Cold War, The Terror Museum provides an experiential glimpse into the Hell that many Hungarians endured.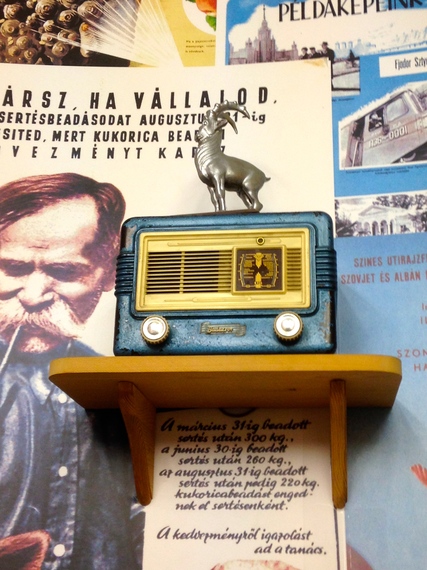 A Vintage Radio Blares Soviet Propaganda Messages at The Terror Museum
It was particularly interesting to see this museum after the decorative and arts venues because while it was clear to me that Hungary flourished in the early 20th Century, all of that came to a screeching halt during WWII. I'll simplify the complicated history for sake of space: Originally aligned with the Nazis, Hungary was first at war with the U.S. and the Allies. Then they tried to sever ties with the Nazis, and the Germans invaded. Then Russians attacked. During WWII, the Nazis, the Soviets and Americans bombed Budapest at various times.
This museum also zeros in on The Holocaust, and gives a very honest and grim portrayal of the genocide that swept the country. It also tells the stories of survivors who were tortured and left for dead. With audio, video, tangible objects and interviews played on loop, the museum bombards the senses with terror.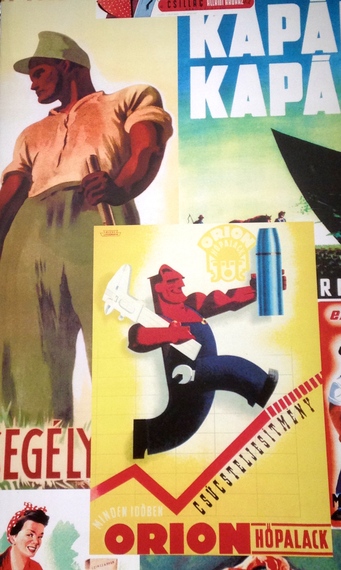 Soviet Propaganda Posters at The Terror Museum
As WWII came to a close, there was no reprieve for the Hungarian people. They now belonged to the Soviets and went straight into the Cold War. Now any religious belief could be persecuted and anyone perceived as a threat to the government could be tortured, imprisoned and murdered.
A particularly grim moment was as we walked into a large room with dark floor to ceiling curtains in the middle. Out of nowhere, the lights dimmed and in the center of the curtains a Soviet Secret Police car appeared in the middle, all under the glow of red spotlights. It was chilling and the metaphor was not lost on me: just when someone was least expecting it, they could be picked up by one of these ominous vehicles and never seen again.
Feeling the need to cleanse the palate after this very cool but unnerving experience, we went to a café for dessert. There we met a lovely woman who told us that the last Soviet soldiers left Budapest in 1991. Thousands of Hungarians flooded the streets to celebrate their freedom. "We all yelled 'Bye Bye Sasha' as they marched away," she said. (Sasha is a derogatory nickname for Russians.)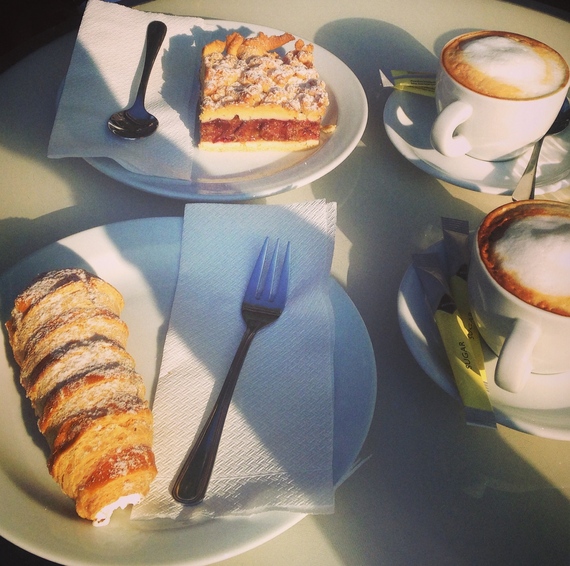 A Sweet Treat at One of Budapest's Many Lovely Cafés
Parliament
A truly beautiful jewel in Budapest's crown, this building actually houses the crown jewels! Featured on postcards and on the cover of just about every Budapest guide book, this lovely building sits on the Pest side of the Danube and is lovely in to behold both in the day and the night (when it is beautifully illuminated).
We strolled the area many times but did our tour in the afternoon. The opulence in this building is a true glimpse at Budapest's Gilded Age. It is one of the oldest buildings in Europe, and the tallest building in Budapest.
After we saw the crown jewels, we also got to see where sessions are held and toured many other rooms filled with art and antiquities. There is exotic marble, intricately carved wood and stained glass windows in every direction you look.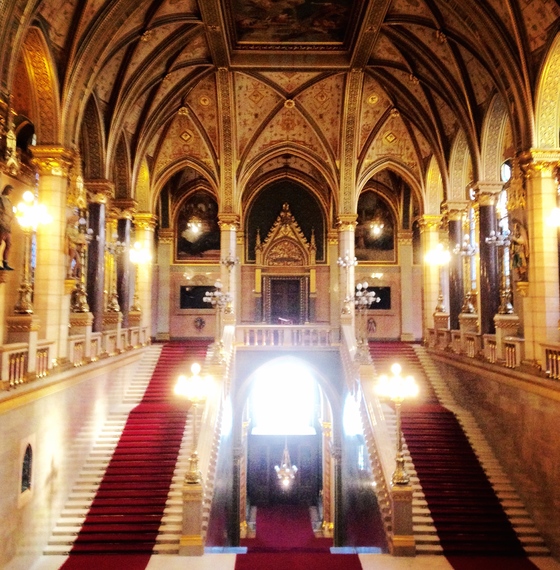 Opulence Abounds Inside The Parliament
All in all, this building is a modern marvel in that it still exists. It was bombed in WWII six times by the Germans, the Russians, the British and the Americans. They thought ahead, however, as the guide told us when the war broke out, the stained glass windows were removed and stored in the basement.
Outside the Parliament, we strolled along The Danube where there are memorials to The Holocaust (bronze casts of shoes representing those who were killed line one area of the shore).

One of Many Pairs of Bronze Shoes in Memory of Those Killed in The Holocaust
We took the Number 2 tram along The Danube afterwards and it provided lovely views and a further chance to take in the sights of this beautiful, resilient and historic city.
Antiques Shops and Flea Markets
Speaking of history, no trip would be complete for me without antiquing. I was especially excited about this trip because I already came with a years-old love of Hungarian pottery.
The antiques shops in Budapest are concentrated on Falk Miksa Street, just steps away from The Parliament Building. There are about 20 shops along this lovely tree-lined street and each has a nice, affordable assortment of treasures.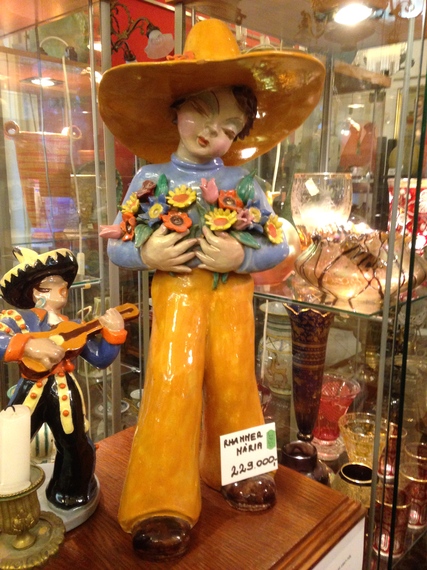 Hungarian Art Pottery in One of the Many Shops on Falk Miksa Street
As I stepped inside one of the first, I smiled from ear to ear, as it was like I was in my own dining room. I saw about 15 pieces of pottery I already owned (thanks eBay!), and many more that I'd flirted with online.
There were plenty of Zsolnay pieces with their signature green eosin glaze (the formula is still a much-guarded secret), and lots of pieces from Komlos. I love this particular pottery because, like the art I admired at the Museum of Applied Arts, it often depicts working class people in their daily lives. There's also a folksy sense of humor I like about it that speaks to the hearty nature of the Hungarian people.
In another store, Anna Antikvitás, I gravitated towards the Christmas ornaments. I've long been a collector of vintage Christmas items, and whenever I travel, I try to bring back a few. I left with a sweet red and white mushroom and a seltzer bottle that reminded me of one my grandmother had and used. The dealer kindly packed them in bubble wrap, so they arrived safely home with me and will go on my tree this year.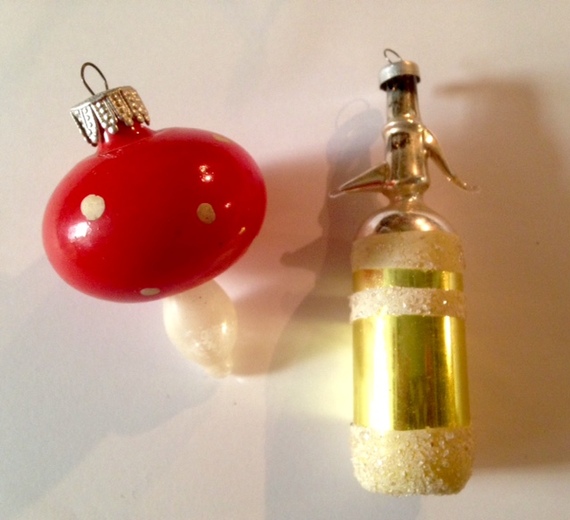 Vintage Christmas Ornaments I Found at Anna Antikvitás
Perhaps my favorite find, however, was a bronze plaque mounted on marble. It depicts a woman named Pipike and was created by her husband Szõdy Szilárd (1878-1939). It's a beautiful, one-of-a-kind piece of art, and the dealer was kind enough to provide me with the provenance. She contacted existing family members and they told her Pipike was his wife's nickname. It is such a sweet, sentimental piece, and it will serve as a tangible memory of a fantastic trip. While I loved all of the antiques shops, the one where I found Pipike is the one of the best. It's called Násfa Antik Galéria.
In addition to the antiques shops, we went to a flea market called Zichy Mihály in the middle of Budapest's lovely City Park. There I found a three 1920s wrestling medals and a few cool ephemeral objects (easy to pack!). The market was fun and the park itself was lovely and gave us a chance to see Budapest's zoo and several other museums.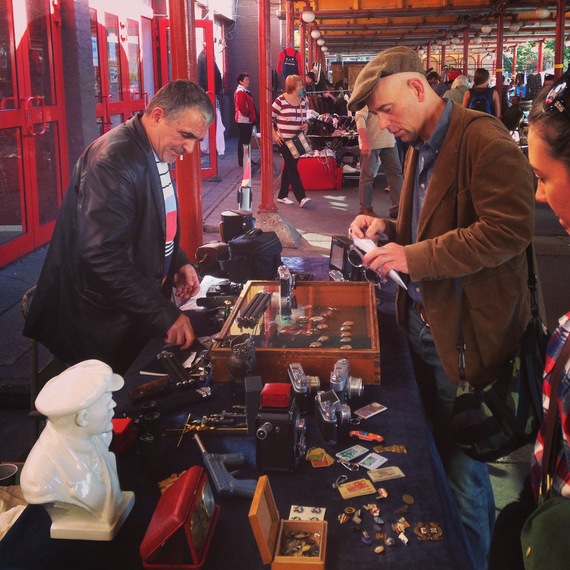 Treasure Hunting at Zichy Mihály Flea Market
Classic Hollywood Ending
As the holidays approach, one movie I watch every year is The Shop Around The Corner, with Jimmy Stewart and Margaret Sullivan. The two play employee rivals at a department store in Budapest who actually turn out to be secret pen pals. If the story sounds familiar, it was re-made with Tom Hanks and Meg Ryan as You've Got Mail. But I prefer the original.
Each time I watch it, I wondered about Budapest, as it seemed so charming in the movie. Filmed in 1939 and released in 1940, the movie depicted a rather idyllic city that was cultured, warm and friendly.
Sadly it seems that not so long after the film's release, Budapest became a very different place and remained so for many, many years.
I'm happy to report, however, that the Budapest I visited feels now very much like that sweet city in The Shop Around The Corner. And that seems like a very happy ending to this story.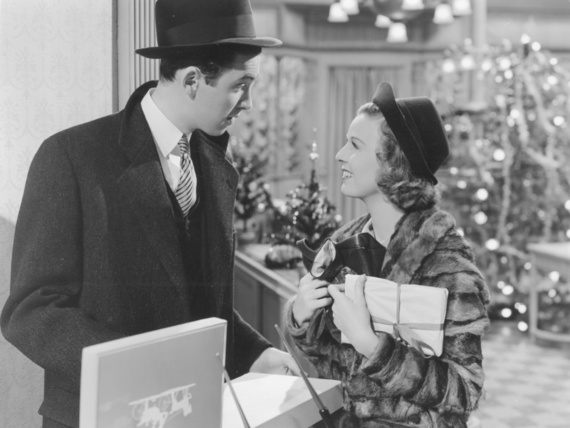 Jimmy Stewart and Margaret Sullivan in "The Shop Around The Corner"
WATCH THE VIDEO: Tag Along as I Head to The Flea Market and Antiques Shops in Budapest
LINKS:
The Corinthia Hotel: www.corinthia.com/hotels/budapest/
The Museum of Applied Arts: www.imm.hu/hu/contents/inenglish
The Hungarian National Gallery: www.mng.hu/en
The Terror Museum: www.terrorhaza.hu/en/index_2.html
Anna Antikvitás: annaantikvitas.com
Link to article: www.huffingtonpost.com/bob-richter/grand-architecture-epic-h_b_6175728.html?utm_hp_ref=travel&ir=Travel