Hospitality Jobs You Wish You Had
The hospitality industry employs millions of people each year as housekeepers, bellhops, concierges and general managers. A lucky few, though, get the opportunity to nab a really rare job — and these hotel employees have arguably the best gigs in the business. Not only are these jobs exceptionally unique, they also allow employees to interact more with guests and enhance their stays. U.S. News chatted with these hospitality professionals to find out what they do, what it's like … and maybe how we could get their job next. From a fairy godmother to a guacamologist, these are some of the coolest jobs in the hotel industry.
In Pictures: Hospitality Jobs You Wish You Had
Fairy Godmother
Barnsley Resort
You won't have to wish upon a star to have your dreams come true at this hotel. That's what the fairy godmother is for — and she says anything you think of, she'll make happen. Barnsely Resort's Denise Webb has been the hotel's fairy godmother for 15 years, a job bestowed on her by the former owner, Prince Hubertus Fugger of Bavaria. On a day-to-day basis, Webb's time is spent leaving little gifts in all guests rooms, looking for opportunities to enhance special occasions, and finding the best way to make every visitor feel welcome. The fairy godmother's specialties include planning creative, customized engagement proposals or turning your room into a romantic scene reminiscent of the silver screen, with flickering candles, Champagne on ice and rose petals strewn across the bed. For children, she organizes nighttime turndowns, complete with new toys, new books and cookies and milk. Whether she's getting people to "fall in love all over again" or putting a smile on a child's face, Webb loves creating unique experiences for hotel guests. "Barnsley isn't a place, it's a feeling … and I come in every day excited to do my job," she said.
Running Concierge
The Westin New York Grand Central
For New York City visitors who are hoping to keep up their exercise regimen, continue training for a race or just see the sites in a unique way, The Westin New York Grand Central has an employee who can help. The hotel's running concierge, Cristian Vasquez, leads guests on complimentary twice weekly runs along the East River, pointing out some of the Big Apple's notable sights (like the Chrysler Building and the Empire State Building) along the way. Vasquez is also the hotel's food and beverage director and said when the hotel introduced the new role he was up for the challenge — he's an avid runner himself who competes in obstacle races. Vasquez typically starts guests out with a deep stretch and gauges how far the group would like to run (anywhere from 3 to 5 miles) and at what pace everyone is comfortable. Whether it's the 6 p.m. Tuesday jaunt or the 6:30 a.m. Thursday run, the route around midtown Manhattan is quite scenic — perfect for picture-taking and chatting along the way, Vasquez said. "It's a great opportunity to get to know the guests outside of the work environment and ask them how their stay is going, if there's anything I can help them with," he added. After the run and more stretching, Vasquez said he usually treats the runners to a complimentary freshly pressed juice and coconut water at the restaurant to refresh and re-energize them. This particular perk aligns with Westin's overall promotion of healthy living and its RunWESTIN program, which provides guests with local running maps and New Balance gear to borrow.
See: Unique Bed-and-Breakfasts Across America
Marshmologist
The Ritz-Carlton, Lake Tahoe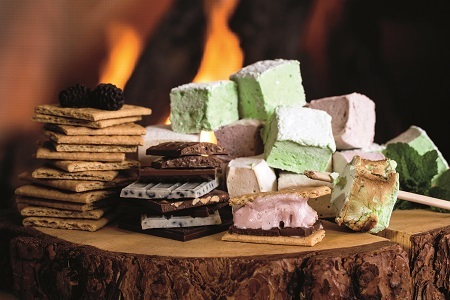 Courtesy The Ritz-Carlton, Lake Tahoe
Is there a better way to warm up after a long day on the slopes than with some gooey, scrumptious s'mores? Probably not — and The Ritz-Carlton, Lake Tahoe's marshmologists are well-versed in the matter of marshmallows. These confection connoisseurs help hotel guests make the perfect s'more during the complimentary daily "Art of the S'more" program held mountainside over a crackling fire. Along with providing varied ingredients, including several types of chocolate and different flavors of marshmallows like caramel, raspberry and mint, the marshmologists share fun facts about everyone's favorite fireside snack. For example, did you know marshmallows were originally used for medicinal purposes? (The marshmallow root was mainly used to soothe sore throats and heal skin wounds.) Only about 200 years ago did marshmallow become better known as the soft, sweet treat that it is today. One of the Ritz's resident marshmologists, Olivia Hernandez, said she thinks the program is such a hit with kids and adults because it recalls childhood memories. "It's a really cool aspect I think a lot of people enjoy, and it's extra special that it's just our hotel [that offers this]," she said. Hernandez also offered tips on making "the ultimate" s'more: graham crackers with a marshmallow roasted until it's golden brown and a nice chunk of chocolate on both the top and bottom.
Boating Butler
The Westin St. John Resort
The boating butler at The Westin St. John Resort couldn't ask for a more perfect backdrop for his job — his office is a "Caribbean boating playground," and the aquamarine water makes a daytrip around the U.S. and British Virgin Islands practically sell itself. From organizing scavenger hunts to scheduling snorkeling tours of the various coral reefs, the boating butler helps lovers of sun, sand and water make the most of their visit. Boating butler Conor Thomas said he has the "unique ability to tailor a day on the water to their needs." The most memorable? A pre-wedding pirate adventure he planned complete with costumes, swords and the "Pirates of the Caribbean" theme music playing as they pulled up to each island. The resort's specialty and a visitor favorite — the "Island Hopper Experience" — allows guests to consult with the boating butler to create their own adventure around St. John, St. Thomas and St. Croix. Puttering between islands with the guests and enjoying sights along the way (like Virgin Islands National Park, Coki Beach and Magens Bay) doesn't sound like too bad a day at the office.
See: Around the Water Cooler With a Holiday Inn Executive
Duckmaster
The Peabody Memphis
The ducks go marching one by one hoorah, hoorah. Someone's got to keep The Peabody's gaggle in line, and that job belongs to the duckmaster. A nearly 80-year tradition at the hotel in Memphis, the duck march happens daily at 11 a.m. and 5 p.m. In the morning, the duckmaster leads five mallard ducks in a parade from their rooftop "duck palace," down the elevator to waddle the red carpet and hop into the lobby's fountain, where they swim around for the day until it's time to march back home in the evening. Current duckmaster Anthony Petrina spends a lot of time training new ducks, as each group's stint at the hotel only lasts three months (after which the ducks retire to a farm and are integrated back into the wild). Using his cane topped with its very own bronze duck head to keep them in line, Petrina walks the ducks back and forth from their rooftop house to the elevator, and being creatures of habit, they catch on. When he's not training new ducks, Petrina is busy taking the newly retired ducks on tour to schools, senior centers and red carpet events. Whether he's leading the march at the hotel or ducking out for meet-and-greets around town, Petrina said he's noticed a common theme. "It doesn't matter who you are or what you do, everyone stops and watches the ducks," he said, adding that even celebrity guests like Michael Jordan and Lisa Marie Presley have enjoyed the march. So is the job all it's "quacked" up to be? Petrina says yes. "I love the ducks, and meeting the people downstairs in the lobby [and] hearing their stories is by far the best part of the job."
Guacamologist
The Ritz-Carlton, Dallas
Duties for this job are exactly what you would think — whipping up lots and lots of guacamole. It starts with hand-picking and scrutinizing every avocado, jalapeño, tomato and red onion to make sure they are as fresh as possible, said Todd Sabo, guacamologist and executive sous chef at The Ritz-Carlton, Dallas. Sabo prepares the complimentary guacamole and serves it with freshly cut, fried, salted and still-warm tortilla chips around 6 p.m. daily for guests to enjoy in the lobby. So what makes a good guacamole? Perfectly ripe ingredients, the proper amount of salt and lime and "never making it in anger, only making it with love," Sabo said. The recipe isn't a big secret either; the hotel offers guests recipe cards so they can try to replicate the savory snack at home. It's become so popular the hotel now offers a "Guest Guacamologist" program (also for free), during which visitors can shadow Sabo for the day and hone their own chef skills by helping him prepare and create the guacamole.
In Pictures: Hospitality Jobs You Wish You Had
— Erin K. Shields
Link to article: www.huffingtonpost.com/us-news-travel/hospitality-jobs-you-wish_b_5161264.html?utm_hp_ref=travel&ir=Travel