Keep Cool by These 6 B&B Pools (Even in the Winter)
If you're a cold-weather dweller, the stretch between New Year's Day and the spring awakening sometimes feels like an eternity. Daydreams of sandy beaches, palm trees and pools can suddenly appear at a moment's notice. And cabin fever could run at an all-time high. These may be signs that a warm-weather getaway is in your future!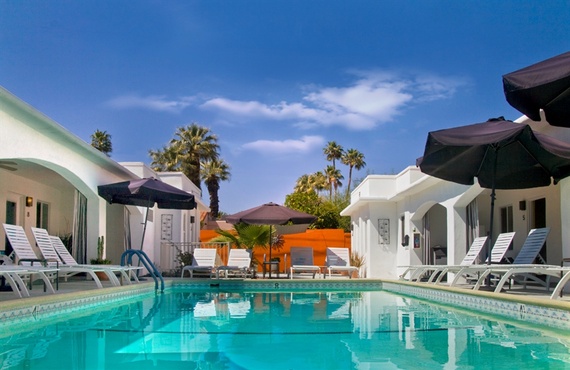 But where will you go? Imagine being able to walk out of your cozy guest room and putting your toe (or the rest of you) into a crystal-clear pool. At these inns, there's nothing on the schedule besides sitting back in a lounge chair, soaking in the sun and then cooling off with a refreshing dip.
Bespoke Inn, Café & Bicycles – Scottsdale, AZ
Located in the Arts District of downtown Scottsdale, AZ, Bespoke Inn, Café & Bicycles offers three uniquely styled guest rooms, each with its own private patio. You can savor a glass of wine at one of the bistro tables by the fountain pool in the central courtyard, or while relaxing on the daybed in the chef's garden. The stainless steel, 43-foot long infinity pool is perfect for an afternoon dip before savoring a gourmet meal by Chef Gio Osso at Virtù, the inns' award-winning, on-site restaurant.
Lamb's Rest Inn – New Braunfels, TX
A visit to the quaint Lamb's Rest Inn will put you in the heart of Texas Hill Country on the Guadalupe River. Custom décor and antiques can be found throughout the inn, including in the six guest rooms. After a day trip to Austin or San Antonio or a tasting at a local winery, stretch out on one of the lounge chairs by the pool for a good bit of R&R.
Island City House Hotel – Key West, FL
Island City House Hotel is comprised of three historic buildings — the Cigar House, Arch House and Island City House — that are situated amongst lush tropical gardens. Its location near Duval Street will put you in close proximity to boutiques, restaurants and the seaport. Bask in the warm Florida sun next to the inn's in-ground pool before taking a cooling swim.
Casa Grandview Luxury Resort – West Palm Beach, FL
Past meets present at the historic Casa Grandview Luxury Resort. Built circa 1925, the inn, along with its 16 elegant guest rooms, showcases a mix of modern amenities and historic touches immersed in a Caribbean-style atmosphere. Enjoy a day of golfing or shopping before returning for a soothing dip in one of the inn's two custom heated swimming pools. Outdoor kitchens and grilling areas are perfect for cooking up a delectable afternoon meal.
McMillan Inn – Savannah, GA
The McMillan Inn, a fully restored Italianate Revival, is unabashedly Victorian in its décor and sensibility, including in its four guest rooms and Carriage House. You can take a stroll to nearby historic Forsyth Park to admire the fountains or people watch from the benches. Upon return to the inn, make your way to the courtyard where you can sit and soak in the "dipping pool" surrounded by flower gardens.
POSH Palm Springs – Palm Springs, CA
Originally built circa 1930, the Art Deco-style POSH Palm Springs is an oasis of luxury, from the plush spa robes and pillows, to the fine linens and high-end body care. Before making your way into town for a gourmet dinner, sip martinis and savor hors d'oeuvres with fellow guests during the evening happy hour by the pool.
–Mary White, Founder of BnBFinder.com
Link to article: www.huffingtonpost.com/bnbfindercom/bed-and-breakfast-pools-in-winter_b_4555446.html?utm_hp_ref=travel&ir=Travel