Killer Trip Chasing Killer Whales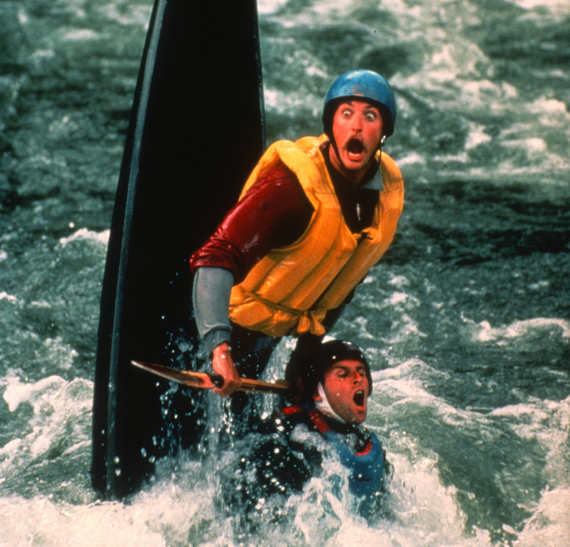 "Tons of whales. Out in full parade. August is the best time to see them. It's a festival of Nature!" His words splash, clear brandy in a snifter. It is day before departure, and I've called David Arcese to ask about gum boots, an unfamiliar item recommended as footwear. David, however, is so excited with the upcoming trip he can't stop speaking about the whales: Orcinus orcas, blackfish, killer whales, the residents of the glacially-carved channel where we will be kayaking for a week.
There is no better place, no better time. The salmon are running, and the weather is fine. Our target waters have the highest density of orcas anywhere in the world. I'm going to feel the spray of flying flukes, and wink at the melon-sized eye of an orca.
I land in Victoria, B.C., pick up my luggage and proceed to my hotel. When I open up my suitcase, it is filled with bras, panties, and high heels….but no gum boots. Definitely not my bag. The luggage tag has a name on it, but no contacts. So, I sit down and call every hotel in Victoria, and the last one has the owner sitting in the lobby crying over her lost bag. So, I head over to her place, and make the switch.
Morning next I drive up the bristle of Vancouver Island to Telegraph Cove, a museum piece of a fishing village. On the lawn of a bustling tackle shop, dozens of sea kayaks are strewn in various states of readiness, including a group that will be paralleling our itinerary, "The Other Pod" as we cleverly tag them.
There are four fiberglass kayaks for our expedition: three 21′-long doubles and one 17′-single piloted by David Arcese, our outfitter. Everyone is wearing gum boots, heavy black knee-high rubber galoshes, except me. The day seems too warm, so I stay in my Tevas.
We slip on our Kokatat spray skirts, wiggle into the boats, and off we sail into water the temperature of properly chilled Chenin Blanc. Our route is down the Johnstone Strait of The Inside Passage, a stretch famous for its accommodating orcas. Beyond the dorsal fins, we'll admire the sublime scenery along the Vancouver Island coast. Then, after paddling southeast for about six miles, we'll camp front-row at a favorite spot for sighting big saddle-patched cetaceans.
The going is slow the first hour. Still getting our sea arms, we drive our boats in wild directions, bumping gunwales, sometimes pointing at four compass points, other times facing one another like wrestlers. Kayaking is the lean, clean aerobicized form of boating, and a bad paddle stroke is like a thong bikini, exposing all structural flaws. I had been a rafter for many years, and at times want to cover my pear-shaped fumblings in the loose old bathrobe of a big rubber inflatable. But, after a time I get the hang of it, and can't help but appreciate the beauty of the clean lines the boat carves in the water as we charge forward. Now I can look up, and see how beautiful the shoreline is as well, looking like an enormous green animal in repose, though occasionally great brown chevrons of slash scar the shoulders, giving the odd impression the creature is molting.
As happens, this is one of the few days of summer commercial fishermen are allowed to catch salmon, so the strait is crammed with diesel-powered trawlers, and we have to dodge them and their nets, our subtle crafts murmuring past their obtrusive presence. Then I hear it… the eerie, low wailing sound of a whale. There must be one nearby. It calls again, and repeatedly, with startling clarity over the water. I'm quite excited, and shovel my double-blades to reach David's boat and ask the question: "What type of whale makes that sound?" "It's not a whale," David coolly explains. "That's a kelp horn. Someone cut off the bulb of a kelp and is blowing into it. But, be patient. The real sounds will come."
About two hours into the trip we disembark for lunch at the Blinkhorn peninsula. Getting out of the boat, I almost crumple, legs unsteady, like someone who's just grown them. Under the watchful eye of a regal eagle, we snack on salmon and picnic goodies. A local Kwakiutl Indian ambles across the beach, and introduces himself as Tom Sewid, grandson of one of the last great chiefs in the region. The name Sewid, he tells us, means "Paddling toward the feast." Tom regales with local lore, but then really grabs our attention when he relates that yesterday on this very spot he watched as two parent orcas herded their baby into the shallows just off the beach, and proceeded to teach the youngster how to bathe. It was a remarkable sight, one he had never seen nor heard of, and he felt it augured well for our visit. There is silent consensus: we're paddling toward a visual feast.
An hour later, however, the marine life is still conspicuously absent, though the aerial life is pretty impressive. We see a marbled murrelet, a pigeon guillemot, a pileated woodpecker, a red-necked phalarope, great blue herons, and loons. But, no orcas. The only sea life we see is kelp covered with herring roe, and shore crabs. Up in the evergreens we hear Douglas squirrels chittering.
When we arrive at the cove to be our camp, we see that The Other Pod, which had passed us as we listened to Tom Sewid's tales, has arrived first and taken the more elaborate of the sites. Nonetheless, it is a gorgeous roost, and we gleefully unload for our first evening among the orcas, practically vibrating with anticipation.
Yet we neither see nor hear orcas. The night is cut with diesel and fog-horns, the sounds of night-netters. We rise early, and after a whole-wheat banana nut pancake breakfast, we shoehorn into our boats, and start across the two-mile-wide strait. This is the most dangerous part of the trip, as the open water currents are willful, tricky and powerful, and we only have a brief window before the tide changes. So, over we go, following the dowel-like arms of David, we a wobbly unit with bad rhythm, faces clenched like listening to a loudspeaker test as we dig hard. Water sloshes onto our decks and puddles in our cockpit aprons. Waves fight wind to an uneasy standoff. Ninety minutes later we're across, in calm water that glistens like distant paddles flashing. We begin to rotor north along a dark viridian sweep of conifers. When we pull in for lunch, there is so much frilly vegetation it reminds me of a fern bar.
A couple hours later when we paddle into a narrow bay on Compton's Island the tide has filled it like a bottle. We berth our boats at White Beach, littered with sun-bleached clam and oyster shells, thick with the smell of brine. Here we go about pitching camp. The local Kwakiutl Indians had half-completed a roof-shelter just above the beach, and beneath David sets up the kitchen. He passes out Kokanee Glacier Beer, a B.C. brew, and shares he heard over the radio that The Other Pod had set up camp near here, but fled when a bear wandered into camp. We chuckle at their misfortune, secretly glad it wasn't us, and certain we are on the better road to destiny. Finally we slip off to bed. But just as we're fading into sleep we hear a sound like pages being turned, a rasp and blow, whooshes of air out in the bay…orcas blowing. They're here; we just can't see them.
Maybe they'll still be around in the morning.
But the morning is a blushed calm, the sea smooth as molten lead, no sight of whales, no sounds. They've gone wherever whales go.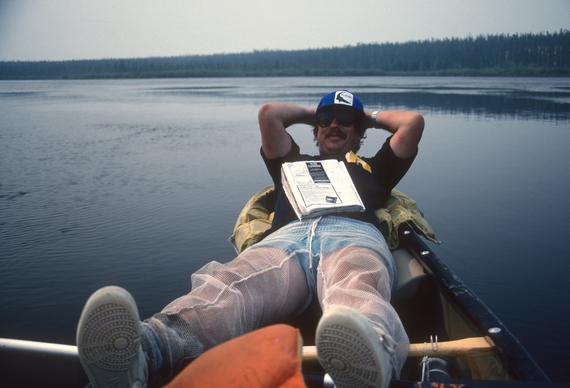 It is truly a gorgeous day, the light shafting through the moss-strung forest as though from a motivational poster. We decide to paddle around the island, and in water flat as a Bible belt, the boats glide like a prayer. We stop at a small beach for a nosh and afterwards hike a bough-roofed trail to the highest point on Compton's Island. From the summit we see a black bear rumbling through the shade stripes of the lower woods. Likely he is the same one that came into the camp of The Other Pod the night before, forcing the group to abandon the island, re-cross the Johnstone Strait, and retreat to the first camp where no whales had been seen.
Back to our boats, and we continue the circumnavigation, ever on the lookout for the telltale spouts of orcas. On the lee of the island, we ease through a narrow throat of water, past a granite wall adorned with Kwakiutl pictographs, and several midden-beaches, deep carpets of broken shells, whitening the shoreline from centuries of shuckings. Then we assume our most splendid attitudes and dock our schooners at the Farewell Harbour Yacht Club on privately-owned Berry Island, and offload for a lunch and a look around. Behind the hot tub, in the rec room, there is a stunning poster of three orcas, so close I can almost feel their breath. I read the photo credit at the bottom: David Arcese.
After dinner that night, knowing a bear is on-island, we take special care to make sure all edibles are sealed tightly away in the kayak bulkheads. Then, since we still haven't seen any whales, David plays a tape of orcas singing. They sonar click and echo in a way that matches their submarine shape. I begin to wonder if this might be the closest we get to the five-ton mammals, the world's top ocean predator, here in greater numbers than anywhere, or so the brochure claims.
An hour of orca music leaves me tired and disenchanted, like listening to a sold-out Stones concert on the car radio in the parking lot. With the tape still spooling I slouch to my tent. After blowing up my air mattress, unfurling my bag, changing to bed attire, I crawl in and shut my eyes. The sounds of orcas drift into my tent like audible smoke, and I wonder if I'm hearing the real thing, or Memorex. Then I sit up in a panic. I remember I left some Reese's peanut butter cups in my shirt pocket, hanging on the line outside my tent. Could these attract a bear? Should I get up and eat them? It's so snug in the bag, and cold outside. I toss back and forth, and finally decide I'll take my chances. Sleep paws in.
The rusty taste of a restless night brings me consciousness. I check to see if body parts are intact, then go outside to a thick, white fog, where I examine my shirt pocket. The little crown-shaped cups are still there, untouched, and so I pop them into my mouth, and start to strike camp. As we're packing the hulls of our boats, David turns on his two-way marine radio and the sounds of orcas spill forth: chirps, warbles, whistles, eerie shrieks and long keening notes. A dozen seem to be chatting, trading gossip, telling stories of thwarted tourists. They sound so close. Then David reports we're hearing whales on the other side of the Johnstone Strait, back at Camp One. The Other Pod, our unfortunate parallel group chased away by the bear, is in the midst of a super-pod (80-100 whales), and David's counterpart has put his walkie-talkie to the speaker of his hydro-phone for our benefit. The Other Pod is literally witnessing dozens of whales, breaching, splashing, displaying as though for an imperial audience.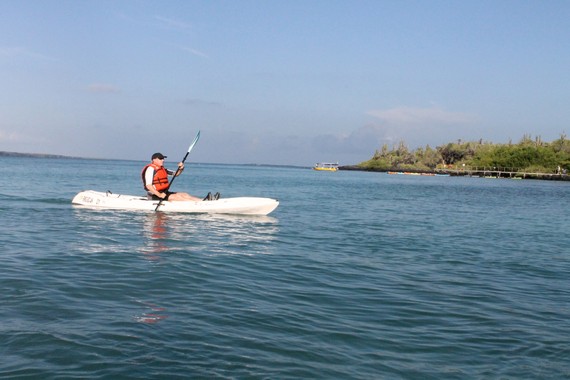 -Photo by Laura Hubber
So, let's go find them. Skipping breakfast, we clamp down hull lids in a hurry, and pull our boats over a row of kelp that lay like a continuous windrow along the uneven line of last night's highest tide. The sea here is first a low, lacy line on the sand, then sharp chopped waves like ploughed furrows, then nothing but pale haze, a lush blending with an uncertain sky. Nonetheless, out we go, fueled with hope. The fog, though, drops, becoming so thick it's like barging through glue. We can barely see the bow points of our boats as they bevel through the mist. When finally we reach the edge of the strait, David stops and says we have to wait. A love boat stuffed with tourists looking for whales on high decks with high-powered scopes could come driving through in this weather and slice us like halibut. So, we have to be patient. Harbor seals, looking like little old bald-headed ghosts, make fluid plunges around us. The trill of eagles seeps from the sulky sky. My feet are cold in my Tevas. After 20 minutes with no change in visibility, we pull up onto a cobblestone beach and cook up a breakfast to fuel our upcoming upper body work, then play a game of bum-darts to pass time. David reads tides, waves, currents and winds like Bernstein read music, and so we await his word of when. At last, the fog begins to lift. Back into our boats we slip; out to the edge of the strait we glide. It's still too thick to cross, so we sit and wait, wait and sit, all the while listening for the sounds of orcas. All we get are the muzzy blasts of foghorns.
At last a clean breeze feathers up, and we can see the tops of trees, and the airborne counterpart of the orca, a black and white bald eagle, swooping towards our now-apparent route. Our blades spin like windmills as we speed towards the lifting peaks of Vancouver Island. We are now masters of our crafts, whipping the water like aboriginal warriors. By late-afternoon we're back at our first campsite, where The Other Pod had sighted the super-pod just hours before. Now, all is quiet. David hears a report on his marine radio that eight whales are heading our way from Robson Bight, not far southeast, so after a quick pit stop, we jump back in the kayaks and go looking. A close encounter at last seems close as hand. But, after 30 minutes of hard paddle time David hears from a whale watching boat the pod has turned around, headed back to the protected Ecological Reserve, off-limits to boaters. So around we turn as well.
Back at camp, as dinner is being prepared, a young boy rows over from his father's trawler and proceeds to tell us that yesterday an orca swam up to our campside beach and played around for an hour rubbing himself on the flat stones and pebbles. It was the most amazing display he had ever seen. I feel the expression on my face congeal.
Whales seems to be everywhere but here. Just offshore a salmon flings itself out of the water in an amusing defiance of gravity, but it seems more a mockery of an orca's signature performance. At sunset, a cloud, dark as a plum, curls over the 12,000′ Silver Thorn Mountain in the Coastal Range, and it looks very much like a whale's back. After dark, we decide for one last attempt. We worm into our kayaks, and slither into the darkness. The extraordinary bio-luminescence of stirred plankton curls around our blades, like broken stars spilled into the sea. Still, the mood is blue, ears cocked for the exhalations of an orca.
Alas, we hear only the slurping of each other's paddles.
And, when our small group finally tries to go to sleep, we can't… because in the camp next door The Other Pod is celebrating their massive whale sighting with a potlatch, lots and lots of liquor, and songs deep into the long northern night.
The next morning, our last on this odyssey, we sit around in the bleed of early light and feel sorry for ourselves. As I sip coffee from a plastic cup with the picture of a spyhopping orca wrapped around its middle, David closes his eyes and a kind of ruined beauty shudders over his face, like the hide of a marine animal disturbed by limpets. David confesses that in years of kayak trips in this area he has never not seen orcas during an August paddle. The confession doesn't do much to cheer us up. I think we've hit a wall. The Whaling wall.
Then, someone whispers, "Look, look, look," like a mourning dove. Out of a combed-back stand of spruce a blacktail deer delicately emerges. He softly strides onto the beach where we've been sipping morning brews. He picks past my gum boots crooked like dead fish on a sandbar, pausing just a few feet from the beached boats. A young Japanese girl from The Other Pod cautiously approaches the deer. Instead of running away, the deer reciprocates and gently walks towards the girl. When they meet, the deer seems to plant a deep kiss on the girl's cheek; and the girl puts her arms around the animal's neck in a hug. They exchange looks and touch one another for a minute or so. And then the deer quietly steps back into a stand with leafy branches that hang like waterfalls, and disappears.
It seems a scene beyond the quotidian sphere, a coming-together of man and nature impossible in real life. For a few magical moments I don't harbor panglossian yearnings for orcas; don't begrudge unfulfilled promises or brochure copy. .. I only think about the unpredictability of nature, and how accepting that can open up the mind to surprise and wonder, to what the Indians call Sewid, and the serendipity of life on a sea kayak trip in the Inside Passage.

Link to article: www.huffingtonpost.com/richard-bangs/killer-trip-chasing-kille_b_4638560.html?utm_hp_ref=travel&ir=Travel