Mad Dogs and Englishmen Go Out in the Midday Sun: Updating Noel Coward on the Looney Front
Sometimes by design, sometimes through thoughtlessness or plain idiocy, sometimes just because I get antsy if I sit still, I find myself doing my British passport justice, at least by the lights of Noel Coward's iconic song, sweating and puffing about in the broiling noonday sun just like the playwright/composer's mad dogs and Englishmen.
Some may like it hot, but on a recent visit to Djibouti, one of the hottest places on earth, it was sheer boredom that drove me out into the searing noonday heat. I just got fed up with sticking in the delightfully air-conditioned micro-climate of my hotel.

Djibouti town hall in noonday heat
The very fact that I was in Djibouti at all in July, the hottest month, when the average maximum temperature is 106 degrees Fahrenheit (41 centigrade), was counter-intuitive. When I e-mailed a tourist guide before arrival, I got the following reply: "You're the only one to venture here at this time. It's rare to see visitors between July and August: Even locals leave the country in search of cooler climes."
It fit in, however, with a trip I was taking elsewhere in Africa, so here I was updating Coward, who famously wrote:
In Bangkok
At 12 o'clock
They foam at the mouth and run,
But mad dogs and Englishmen
Go out in the midday sun.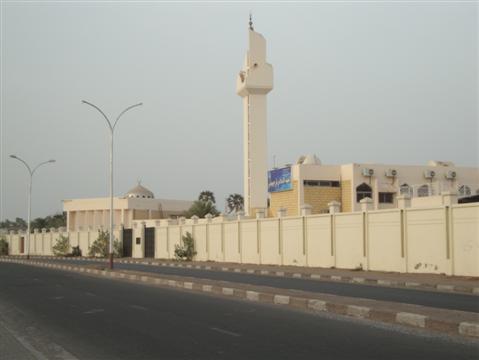 Main road by modern mosque at midday in Djibouti
And here was I:
In Djbouti Town
When you sweat enough to drown
To the aircon hotels they run,
But mad dogs and Englishmen
Go out in the midday sun.
In fact it was even worse. This time there wasn't even a mad dog around. The blindingly sunlit streets were deserted, not a canine in sight — only a couple of shriveled old beggar women crouching in the shade of an arcade. And one mad Englishman — yours truly — prancing around, slowing, halting, wilting, melting, turning, gasping and beating a humiliating retreat back to air-conditioned boredom.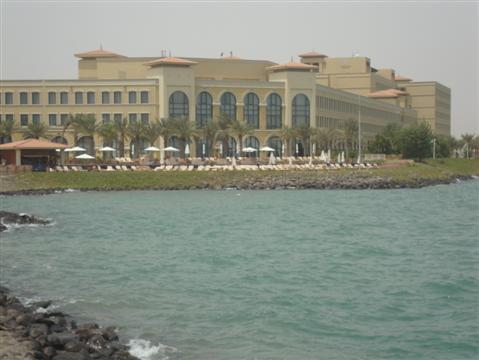 Djibouti Palace Kempinski hotel at noon
On the Polynesian atoll nation of Tuvalu in the South Pacific, where temperatures are uniform all year round with an average of 83 F. (28 C.), it was thoughtlessness that found me waning in the hyper-humidity of noon.
Coward may have written:
In Rangoon
The heat of noon
Is just what the natives shun…
Here it was:
In Tuvalu
When you turn to goo
And the noonday heat's such fun…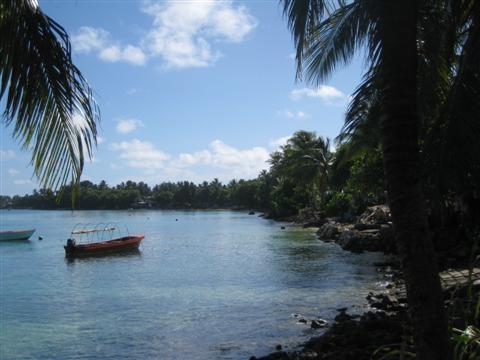 Tuvalu, lagoon-side
What got me into my predicament was a not-unpleasant late afternoon walk I'd taken the previous day to the southern end of Funafuti, the main atoll. So at mid-morning the following day I decided to balance it with a five-mile walk to the northern tip. Starting out was bearable enough, padding past the family graves bedecked with awnings and artificial flowers that grace homes on both the lagoon and ocean sides.
But by the time I reached the tip, it was noon, the sun was broiling nicely, I'd idiotically forgotten to take water with me and I was dying of thirst. The Horizon Bar near the northern end, much touted by Lonely Planet, was locked, and the only drink available was at a girls' volleyball competition from open buckets — great for cholera, typhoid or whatever else my fevered imagination could conjure up.
This did, however, at least give the lie to Coward's assumption about the natives shunning the sun, even as one mad dog and this mad Englishman corroborated his other assumption. The local girls were darting all over the place, totally impervious to the overbearing humidity, while their parents looked on from an open-sided roofed enclosure.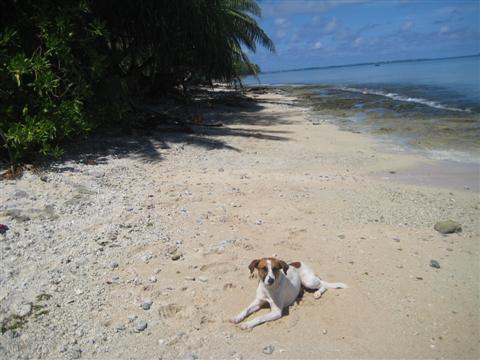 Tuvalu 'mad dog' enjoying midday sun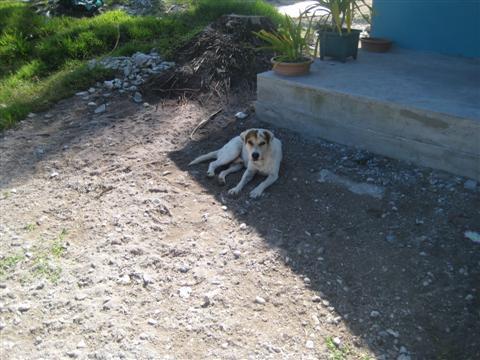 But his mate thinks better of it
Fortunately I was saved by an apparent mirage, a psychedelically colored bus slowly emerging into concrete reality — the Philippines jitney, also much touted by Lonely Planet, brought over from Manila by a local, and now taking me, gasping, back to my hotel. Who cares that its brakes are not functioning and you have to wait till the clutch is disengaged and it rolls on to a speed sufficiently slow for you to jump off without major injury!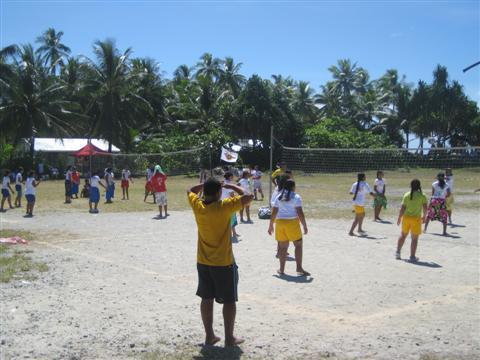 Not just Englishmen in the midday sun, Tuvalu girl basketball players too
The conscious decision to challenge the inferno full frontal came in Djibouti, too – at Assal lake, at 509 feet (155 metres) below sea level the lowest point of Africa. Here summer temperatures can reach 126 F. (52 C.). Daniel, the guide, arranged for us to arrive after 4 p.m., when this hot spot becomes less hot, but I advanced the timetable by a few hours on the principle that if we're going there anyway, let's get the full monty.
OK, it was about 122 F. (50 C.) in the shade — except where was the shade? Hundreds of little holes bubbled up with boiling water from the bowels of the Earth, filling the green algae-adorned pools that feed a lake far saltier than the Dead Sea. The lake shore shone like snow in the sizzling heat, the nearby water glistened a light blue-green, and the lake itself vanished into the haze against a backdrop of stark brown mountains.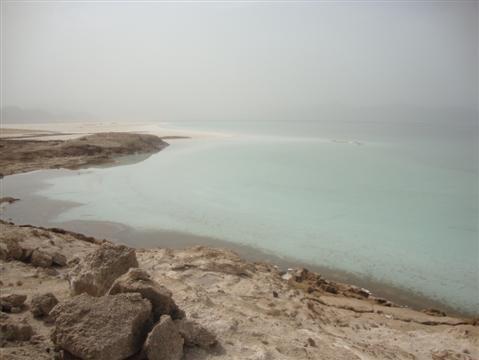 Lake Assal
OK, Daniel's initial timetable was beginning to look more attractive by the second. We returned to the air-conditioned van. But this time I only had to make a slight change to update Coward, substituting Lac Assal for Bengal:
At lake Assal
To move at all
Is seldom if ever done.
But mad dogs and Englishmen
Go out in the midday sun.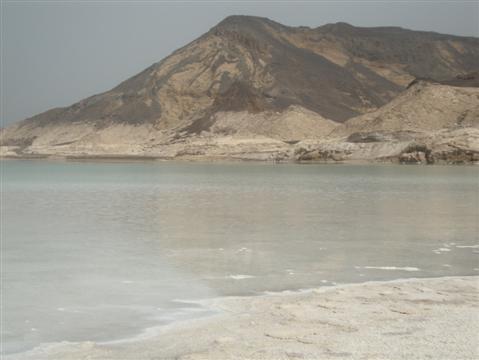 Lake Assal
For other travel experiences see www.looneyfront.blogspot.com
Also by the same author, Shakespearean spoofs on current day politics at www.shakespeareredux.blogspot.com
Link to article: www.huffingtonpost.com/mike-arkus/mad-dogs-and-englishmen-g_b_3973005.html?utm_hp_ref=travel&ir=Travel