My Holy Land Shoot Finally Arrives
For the last year, my usual laser focus on Europe has been diverted with preparation for our Holy Land shoot. With our regular TV production in Europe, I do the scouting, rough up the script, and line up local contacts as I research my guidebooks. With our Iran special in 2009, we wrote the script pretty much on the fly as we were filming. But for the Holy Land, I dedicated a special trip this spring just to sort through the options and come up with a plan. While this project has distracted me from my normal work, I have great hopes to help my American audience understand (as much as a travel writer/TV producer can) the context of the problems in this notoriously troubled part of the world. And now, I'm thrilled at the opportunity to take our crew to the Holy Land.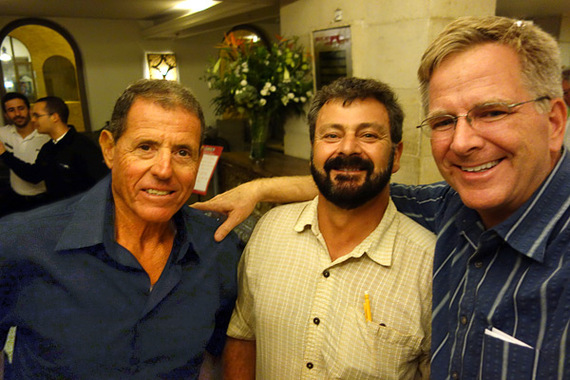 For our shoot, we have a week in Israel followed by about a week in Palestine. El Al Airlines flew us from LA to Tel Aviv (non-stop in 15 hours, amazingly efficient and comfortable), where my producer Simon Griffith (middle) and I were met by our Israeli guide, Benny Dagan (left). Benny — a former press relations officer in the Israeli army and a very experienced guide — was my guide in April, and he was my first choice to be with us in the countryside of Israel. Considering his life experience, I can't imagine a better person to share the Israeli narrative.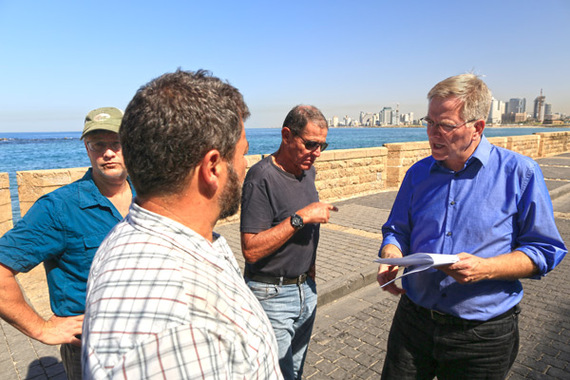 The port city of Jaffa is the Ellis Island for Zionism — the place where many Jews joyfully first set foot in the homeland of their ancestors after the creation of the modern state of Israel in 1948. Overlooking the dazzling skyline of Tel Aviv (a city created from sand dunes by Israelis in the last century), I huddle with my crew — cameraman Karel Bauer, producer Simon Griffith, and guide Benny Dagan — to finalize the writing of an "on-camera" bit I'm about to do. (By the way, many of the photos you'll see here were artfully taken by one of our cameramen, Dean Cannon, who has generously let me use them. Thanks, Dean!)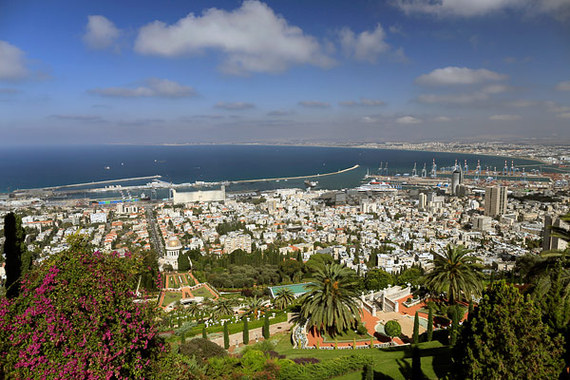 The Mediterranean coast of Israel is densely populated, and perhaps its most beautiful city is Haifa — famous as a place where modern Jewish Israelis and Arab Israelis (about a quarter of the population) can work and play together without the baggage of the religious and political tensions. The gorgeous foreground is the Baha'i shrine gardens. The center of the Baha'i faith is in Israel, but there's so much to jam into a 30-minute show, it didn't make the cut.
Link to article: www.huffingtonpost.com/rick-steves/my-holy-land-shoot-finall_b_4179158.html?utm_hp_ref=travel&ir=Travel