We didn't get away as hoped this August but no matter that didn't mean that we didn't vacation. A Staycay has become a modern concept where time may be limited but the craving for mind and body is anything but. When living in dynamic NYC interesting possibilities materialize.
We didn't want to limit to the expected, fine dining and museums, but focused instead on body and spirit. Bike riding down the center of Park Avenue and other city avenues doesn't necessarily come to mind as a palliative to day-to-day stress, but in August, for three consecutive Saturdays — seven miles of NYC streets open to the public, to do just that (or to walk or run, as desired). "Summer Streets" takes inspiration from similar world events like Paris-Plage Biking and Bogata's Ciclovia, among others. In 2013, more than 300,000 people jumped on the opportunity, to ride, to exercise, or just people watch. Held from 7:00 a.m. until 1 p.m., the streets are cordoned off, with endless activities that include musical performances, dancing, free snacks, access to climb a 25″ wall and even an opportunity to ride through and on a tunnel and ramp under and around stately Grand Central Station, free of cars and barriers. A veritable seven mile block party and all right through the middle of Manhattan!
After one vigorous ride, our next stop was Aire Ancient Baths on Franklin Street in Lower Manhattan's Tribeca, an extraordinary space of exposed brick, wood-beam ceilings and vastness housed in a former textile factory from 1883. Not every day do you find a place to experience the joys of multiple thermal therapies with water pools of different temperatures and texture to dip into -hot, cold, ice, jet and salt. Honestly 16,000 square feet of bliss! We topped it off with a couples massage side-by -side and ended relaxing on hot marble stones drinking aromatic tea.
Revitalized, we ventured to a special spot, PDT Bar (Please Don't Tell), a 23 seat speakeasy on St. Marks Place, a bar like no other we'd been to recently. Reservations are accepted "on the day of" and lucky patrons enter through an old style phone booth inside a hotdog stand at 113 St. Marks called Crif Dogs (yes, a phone booth in a hotdog stand!) where they are treated to exotic cocktails served up by PDT's own mixologist with a following Jeff Bell in this intimate space. A lot of his signature drinks are inspired by famous foodies and chefs and we opted for a creation of his called Casa Dragones (key ingredient, $250 a bottle tequila) which was a special ginger mixture that was beyond good. Not to be undone by the drinks menu, the food counterpart offers delicious comfort foods like tater tots, and chili dogs, all yummy.
Yep, our own personal version of a Staycay; exercise, massage and drinks and we didn't really have to go much beyond the neighborhood!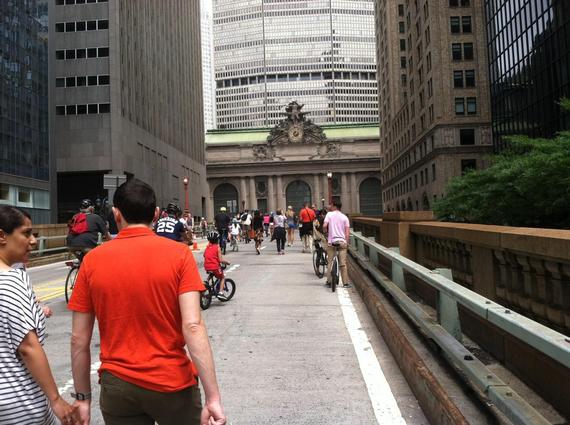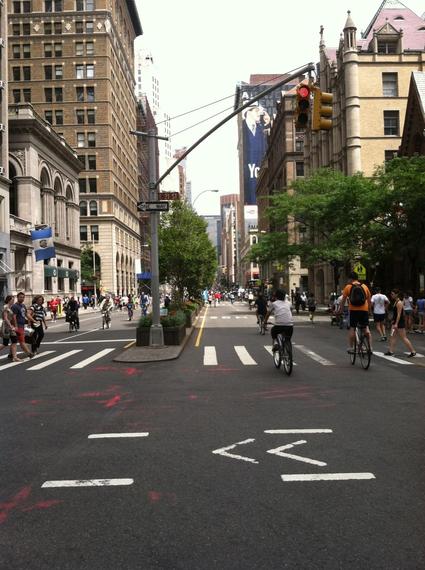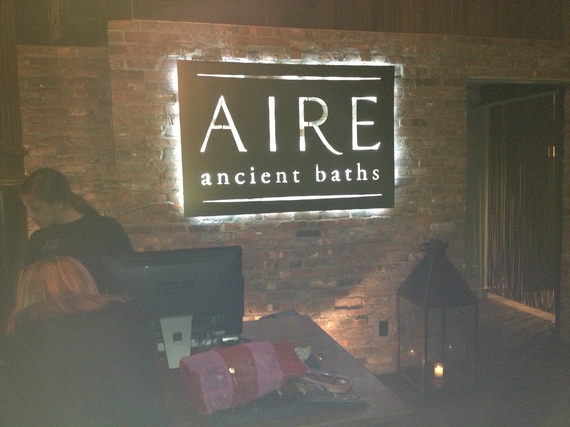 Link to article: www.huffingtonpost.com/illeana-hoffman/post_8563_b_6096520.html?utm_hp_ref=travel&ir=Travel