Palestine's time zone is an hour earlier than Israel's, so it gets dark early — and during our visit, we invariably found ourselves driving after dark. While I wouldn't do that in Egypt, we felt very safe on the road at night here. The biggest hazard was speed bumps, placed every 200 yards whenever passing through a town — for the safety of kids who don't have parks and generally play in the streets.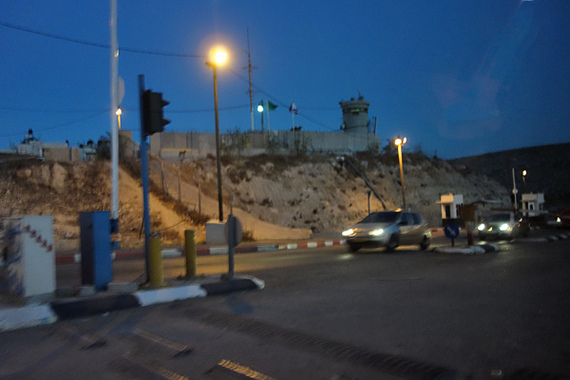 Every so often, we'd cross a checkpoint. When approaching some checkpoints at night, those with green Palestinian license plates (as opposed to yellow Israeli plates) must turn their headlights off and cab lights on. Sometimes guards were vigilant, peering into the car. Sometimes they were looking for trouble…until they saw an American passport, their search stopped, and we were waved through. And very often, bored guards hardly looked up from their iPhone games. Passing through towns, the sidewalks sparkle as headlights hit broken glass.
Lights were instructive. In the countryside, there were no streetlights unless we were under an Israeli settlement or military base — in which case, the highway was well-lit, including powerful spotlights on the light posts facing away from the road, illuminating the land nearby. In the distance, the faint flicker of lanterns and makeshift dangle lighting marked off-the-grid Bedouin camps. And you could identify Palestinian towns on the horizon by the joyful green lights of their minarets.
I'll continue this Holy Land series until November 21st. Then, to celebrate my homecoming, I'll give a live, free slideshow lecture on Thursday, November 21st at 7 p.m. P.S.T. in Edmonds, Washington. You can attend in person (registration required)…or watch the live webcast from anywhere in the world (no registration required). Learn more at Rick Steves – Holy Land: Israelis and Palestinians Today.
Link to article: www.huffingtonpost.com/rick-steves/night-ride-to-ramallah_b_4283394.html?utm_hp_ref=travel&ir=Travel