Unless you've been under a travel rock for the past couple of years, you've probably heard about the discovery of Hang Sơn Đoòng (HSD), the largest cave in the world. The good news? It's now open to explorers. The bad news? It costs $3,000/pp to visit (excluding flights, accommodations, etc.), and tours (operated exclusively by Oxalis) are fully booked for 2014.
But all is not lost. Vietnam's Phong Nha-Kẻ Bàng National Park, home to HSD, boasts a number of other spectacular caves that are more accessible and affordable.
Take, for example, Hang En, enormous and stunningly beautiful in its own right. Hang En is a feeder cave and serves as the first and last nights' campsite for the six-day trek to HSD. For $285/pp, Oxalis offers a two-day trek to Hang En — a slice of the big kahuna trek for a fraction of the price.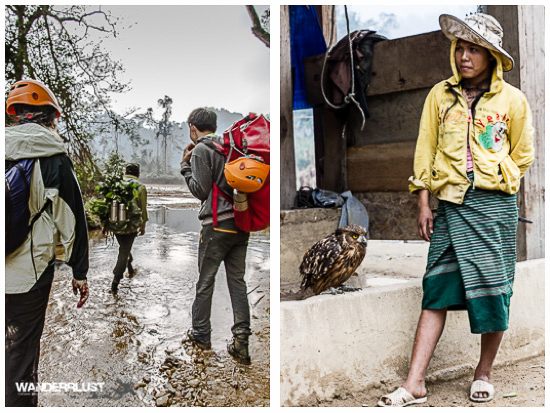 The adventure kicks off with early morning pick-up at your hotel, followed by orientation at Oxalis HQ. One hour on the Ho Chi Minh Highway and many stomach-turning curves later, you arrive at a bend in the road — your starting point.
The steep and muddy descent into the valley below begins almost immediately. Once you reach the valley floor, the real fun begins: trekking in the water. You'll crisscross a few tributaries, eventually meeting up with the river that takes you straight into Hang En.
On the way, you'll pass through Ban Đoòng, a local "minority" village. Depending who you ask, there are anywhere from 28 to 44 people living in this village, and these subsistence farmers don't have much contact with the outside world aside from arranged marriages with nearby villages, and, of course, Hang En and HSD trekkers.
The star of this village is a beautiful owl. Found wounded and nursed back to health by a local, it visibly dotes on her with its liquid amber, miss-nothing eyes.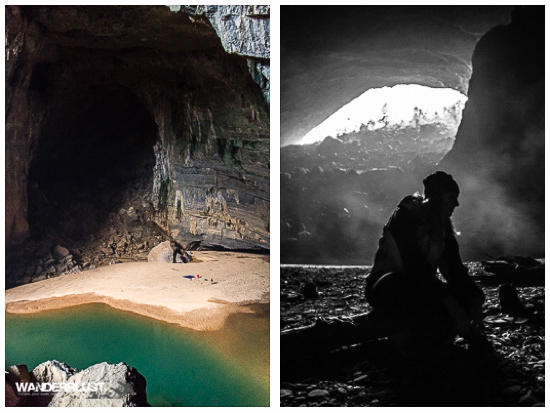 The mouth of Hang En is about a three hour walk past the village, including a brief and simple picnic lunch (think bread, cheese and fruit). The post-lunch stretch is the most beautiful part of the trek (aside from the cave, of course) and is an easy, flat walk. The river becomes wider and is surrounded on all sides by towering karsts, dripping in greenery.
Eventually, the first of Hang En's openings comes into view — a 460′ wide gash in the side of a mountain, evoking the image of a roaring bear. Jungle encroaches from all angles, making this a less than ideal spot to access the cave. The river itself enters the cave through a second opening about a quarter of a mile downstream and provides a much easier point of entry.
Once inside, you are greeted by a massive pile of boulders spilling down from the first opening. 10 minutes of scrambling gets you to the top of the pile, where the enormity of the 650′ tall cave hits you in the gut. The campsite is a mere speck below the soaring ceiling, situated on a lovely stretch of beach next to a deep turquoise pool.
After dropping your stuff off at camp, you'll have the chance to explore the cave. Stumbling around the deep darkness, you'll see 300 million year old fossils, several unique rock formations, and, if you're lucky, flying fox (a type of bat) and swifts (similar to a hummingbird).
Eventually, you'll reach the third and final mouth of the cave, the one made famous by National Geographic in 2011. This is the way to HSD.
The backside of Hang En is pretty great place to bask in the some of the most stunning landscape on earth, though it's a bit of bummer to be so close to the largest cave in the world and not see it.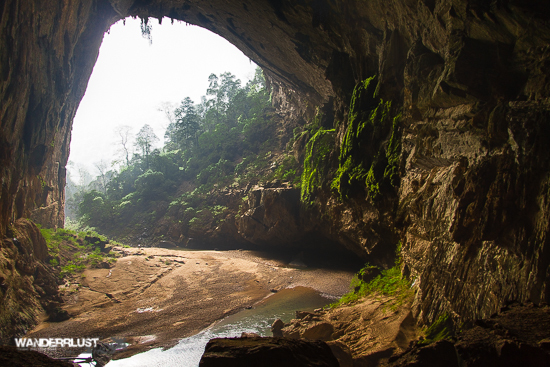 Eventually, you'll be dragged out of your cave-induced reverie back to camp. To make up for it, dry shoes and a feast (whipped up by the skillful porters with little more than a knife, two pots, some chopsticks and a fire) await.
Culinary delights could include tomato and cabbage soup, beef and vegetable stir-fry, fried pork ribs, various sauteed veggies, rice, fried tofu with tomato and grilled pork wrapped with wild betel leaves.
"Rice wine" (read: moonshine) is offered to wash it all down. Drinking is a very social experience in Vietnam and begins with a toast of: "Một, hai, ba, yo! Hai, ba, yo! Hai, ba, wuaaah!" ("one, two, three, cheers! Two, three, cheers! Two, three, drink!"). This is shouted whenever someone takes a drink, and when one person takes a drink, everyone else must drink too.
The rice wine is potent and best sipped slowly. Otherwise, refills will keep coming until it runs out, making for a very rough trek the next day.
As an overnighter, this trek is out-and-back, retracing the route from the previous day. It's no bother since the scenery is so stunning, you'll spend most of the time trying to commit every last detail to memory, even the steep, muddy hike out.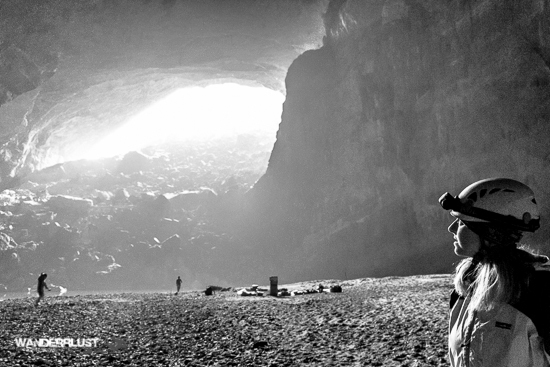 Aside from Hang En, there are plenty of other caves in Phong Nha-Kẻ Bàng National Park, some of which you can see on your own. Oxalis also offers one- to four-day treks to the Tu Lan Caves — read about the one-day trek here.
This area is still remarkably untouched — not the norm for development in Vietnam. However, the opening of HSD and its recent inclusion on The New York Times list of places to visit in 2014 will likely change all this. It's hard for any country, especially a developing one, to look at the money-making potential and walk away.
The time is now, fellow travelers — get here before the crowds change everything.
Courtney and H.J. Derr are currently on a year+ motorcycle journey through SE Asia. For more on their Hang En experience, including things to know, where to stay, how to get there, etc., click here. To follow along on all their adventures in SE Asia, visit www.wanderrlust.com, and stay in touch on Twitter, Facebook, Instagram, and Flickr.
Link to article: www.huffingtonpost.com/courtney-and-hj-derr/son-doong-on-the-cheap_b_4786479.html?utm_hp_ref=travel&ir=Travel