The Most Breathtaking Photos From Around The World This Week
Welcome to "Moving Image," our roundup of the best photos from around the world this week.
The following images tell the story of the past seven days' most compelling events, capturing happenstance moments and monumental occurrences all over the globe.
Our picks for this week are:
1. These hajj pilgrims in Saudi Arabia.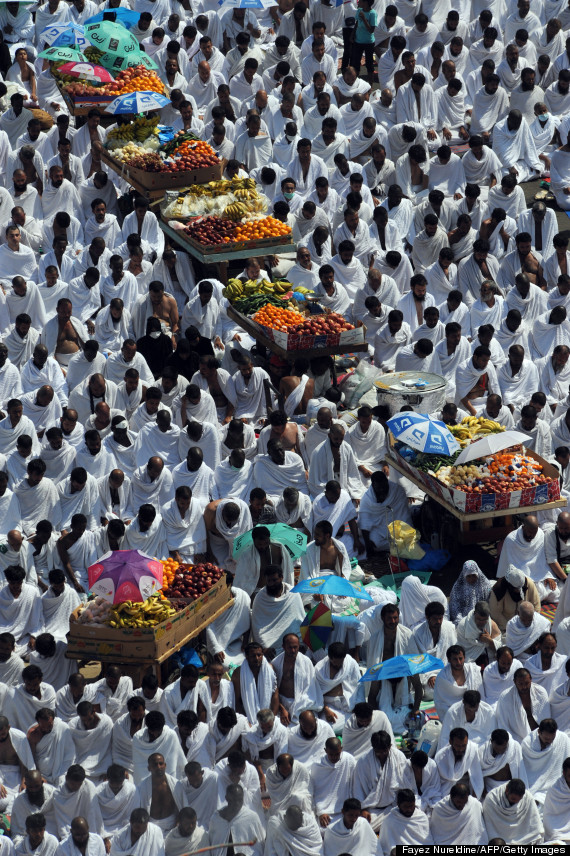 Carts carrying fruits are seen among Muslim hajj pilgrims performing noon prayers at the Namira mosque near Mount Arafat on October 14, 2013. Some 1.5 million Muslim pilgrims thronged Mount Arafat in Saudi Arabia for the high point of the annual hajj, praying for an end to disputes and bloodshed. (Fayez Nureldine/AFP/Getty Images)
2. This cyclist in Germany. A person rides with a bicycle alongside the river Spree as it is photographed trough multiple reflections of windows at a courtyard of an parliament office building in Berlin Tuesday, Oct. 14, 2013. (Markus Schreiber/AP)
3. This procession for Our Lady of Aparecida in Brazil. People holding candles gather for a procession in honor of Our Lady of Aparecida, on her feast day in front of the Cathedral of Brasilia, Brazil, Saturday, Oct. 12, 2013. Revered across the width and breadth of Brazil, Aparecida's appeal has transcended the church's legions of faithful in the world's biggest Catholic country. (Eraldo Peres/AP)
4. This war re-enactor in the United Kingdom.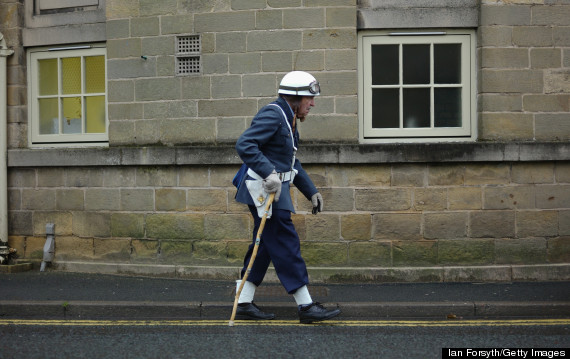 A war re-enactor dressed in period uniform walks through the town during the annual Wartime Weekend on October 12, 2013 in Pickering, United Kingdom. (Ian Forsyth/Getty Images)
5. This snapshot of a parliamentary building in Germany.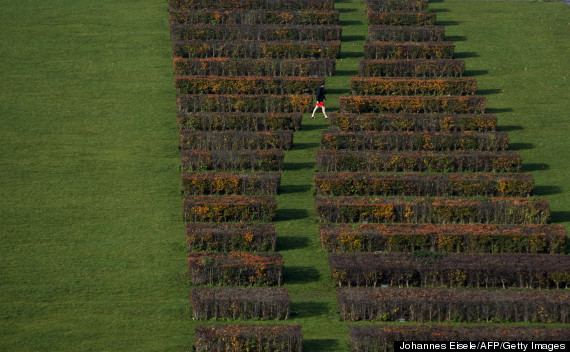 A man walks past hedges in front of the Bundestag (lower house of parliament) on October 14, 2013 in Berlin. (Johannes Eisele/AFP/Getty Images)
6. These fireworks in Brazil. A burst of fireworks go off near members of the so-called Black Bloc anarchist group during clashes with police after a march of striking teachers took place to mark National Teachers Day, in Rio de Janeiro, Brazil, Tuesday, Oct. 15, 2013. (Felipe Dana/AP)
7. These bodybuilders in Spain. Various unidentified amateur competitors flex their muscles during the Arnold Classic Europe bodybuilding event in Madrid, Spain, Sunday, Oct. 13, 2013. (Andres Kudacki/AP)
8. This Capitol Hill tour in Washington, D.C. Capitol Visitor Center tour guide Mary Ellen Anderson, of Alexandria, Va., calls over a group of visitors for the start of a tour on Capitol Hill on Thursday, Oct. 17, 2013 in Washington. After a 16 day shutdown the Capitol Visitors Center reopened, barriers went down at National Park Service sites, and thousands of furloughed federal workers began returning to work throughout the country. (Evan Vucci/AP)
9. These marathon runners in Chicago. Runners participate in the Chicago Marathon in Chicago, Sunday, Oct. 13, 2013, nearly six months after the Boston Marathon bombings, with more police officers lining race routes and spectator areas. (Nam Y. Huh/AP)
10. This cricket match in Australia.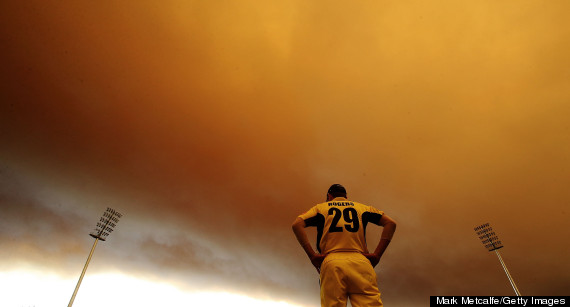 A general view of play during the Ryobi Cup cricket match between the South Australian Redbacks and the Western Australia Warriors at Drummoyne Oval on October 17, 2013 in Sydney, Australia. (Mark Metcalfe/Getty Images)
Let us know your favorite photos in the comments section and check back next week to see new images.
This story appears in Issue 71 of our weekly iPad magazine, Huffington, in the iTunes App store, available Friday, Oct. 18.
Link to article: www.huffingtonpost.com/2013/10/17/week-in-photos_n_4117309.html?utm_hp_ref=travel&ir=Travel