The Pioneer Saloon at 100: A Century of Tears, Beers and Blood
It seems like it's in the middle of nowhere, but Goodsprings, Nevada is only a short drive from the Las Vegas Strip. It's a dry, rusted sort of ghost town with a small collection of residents and a number of abandoned and decaying buildings.
But if you make the drive you're rewarded with a saloon that time seems to have forgotten: the Pioneer Saloon.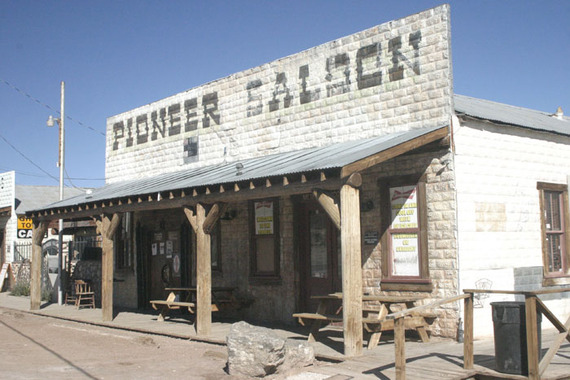 Built in 1913 — and celebrating its 100th anniversary this month — the Pioneer Saloon is an example of the stubbornness of the west. In a mining town that went boom and bust in the early 20th century, it held on with the tenacity that is probably required to live in such a hot, dry climate as you'll find in Goodsprings.
The town itself grew as a result of the wealth found in the nearby hills. Zinc, lead, copper and to a lesser extent gold and silver were all pulled from the dirt. As the world went to war in the early 1900's, the town really prospered, but with the closing of the "the Great War" many of the minerals the town supplied were no longer in demand, and so people slowly drifted away.
What was left was the hotel (which burned down years later), school house, general store, saloon and a few locals unwilling to move. Many other buildings were literally taken apart and shipped to other mining towns elsewhere in Nevada or California, where their owners tried again to make their fortunes.
But the Pioneer remained even though it too was designed to be packed up and shipped out. In fact, the original owner George Fayle bought the building (and the next door General Store) from Sears Roebuck and had them shipped to Goodsprings by railroad.
The walls of the building, inside and out, are made of pressed tin, and they are remarkably pristine for their age — a testament to how little moisture there is around here.
It's often cliché to speak of being "whisked away," but quite honestly when you enter that's exactly what will happen. Were it not for the few slot machines to your left and electric lights throughout, you'd swear you stepped back to 1913. The tables are original, as is the bar, the fireplace (still in use), and the floor.
Very little has changed here.
As you walk towards the back of the small saloon you might see three beams of sunlight streaming through holes in the wall to the left. These were left by the bullets of a card dealer who caught a miner cheating at cards back in 1915.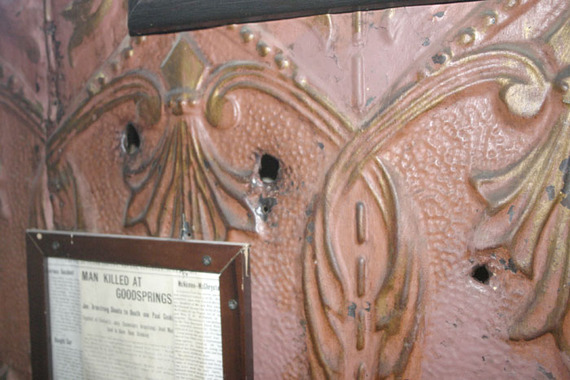 When the dealer called the miner out on his cheating, the miner lunged, prompting the dealer to plug him three times at close range. They never patched the bullet holes and they are now a proper memorial to the miner, the dealer and a completely different time out here in the west. They say the miner still wanders the back of the saloon and is often spotted by patrons (some even sober).
Another notable story occurred a bit more recently, in 1942 to be exact. That's when actress Carol Lombard, during a tour to sell war bonds, died when her plane hit the small mountain directly behind the saloon. Her husband, Clark Gable, rushed from Los Angeles to be part of the salvage and recovery team.
The local sheriff, recognizing the horror they might find, rebuffed Gable's offer and admonished him to stay in town until they brought down Lombard's body. Gable chose to stay in the Pioneer, mourning his wife's death and smoking cigars at the bar. In fact, the bartender will be happy to point out the deep hole Gable burned into the bar top while crying over his beer.
This saloon has seen… well, a century pass by its doors. But you wouldn't know by looking at it. It looks vintage but almost new.
It also looks like a saloon is supposed to look like: uneven wooden floor, grandiose bar, card tables and colorful regulars.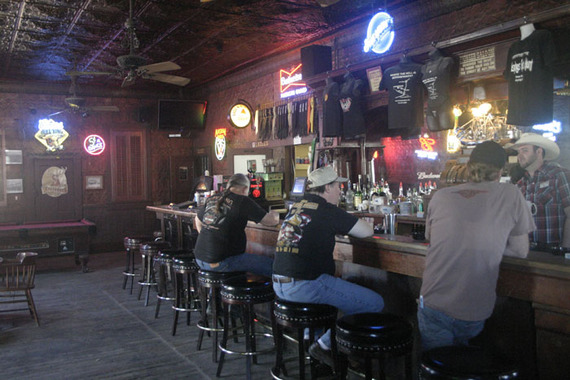 This place is real and authentic and a joy to spend time in. It's far from a tourist trap and instead is more of a local's place. Sure they cater to tourists when they stop by, and they'd certainly love to see more of them, but let's face it: the place is really out in the middle of nowhere, so they've got no choice but to be authentic. If they were cliché, they would've closed their doors long ago.
And that's the reason you need to get to this place. It's so far off the beaten track you know your time is going to be well spent here. The beer is cheap and very cold. The people at the bar are friendly, warm and genuine. The stories are far-fetched, but often true (ask about their "asshole club"). It's a great place to spend your Vegas vacation!
While visiting we loved the place so much we made this short documentary about it, we hope you like it!
How to Get Here
The Pioneer Saloon is located at 310 Spring St, Goodsprings, NV. It is a quick 35 minute drive from the Las Vegas strip and open Monday-Sunday 9am to 12 am. As always we recommend a designated driver or better yet grab a limo or shuttle so everyone in your group can enjoy the saloon.
When to Go
Located in the Nevada desert, Good Springs Nevada can have extremely hot summer days and chilly winter nights. Remember temperature swings from day to night can be extreme so pack accordingly. Also keep in mind that I-15 can become extremely congested as visitors from southern California drive into the area on Fridays and out on Sunday.
Nearby Distractions
Las Vegas is a quick 35 minute drive with more than its far share of things to do. Step out of the glitz, glamour and tourist trap that is the Las Vegas strip and head down to Atomic Liquors to enjoy Vegas' oldest free standing bar. Recently returned to her former glory, its history is just as engaging as The Pioneer Saloon's.
Link to article: www.huffingtonpost.com/clint-lanier-and-derek-hembree/the-pioneer-saloon-at-100_b_4134164.html?utm_hp_ref=travel&ir=Travel