This $100 Gilded Grilled Cheese Might Actually Be Worth It
This is not the grilled cheese of your youth. Unless, perhaps, you were born into royalty.
In honor of April being National Grilled Cheese Month — as well as April 12 marking National Grilled Cheese Day, according to the authorities who decide such matters — one Chicago restaurant is serving up the decadent grilled cheese sandwich to end all decadent grilled cheese sandwiches.
Meet the "zillion dollar grilled cheese" available only this month at Deca Restaurant and Bar at the Ritz-Carlton hotel in downtown Chicago. Its price tag? $100.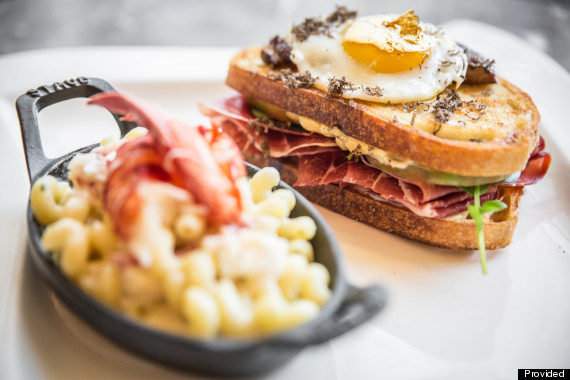 The sandwich features thin slices of black Iberico ham sourced from acorn-fed free-range pigs living primary in southern Spain, Ellis Family Farms heirloom tomatoes, 100-year-old aged balsamic vinaigrette and Oregon Perigord white truffle aioli, according to a press release. Even the bread — artisan country sourdough cooked in Laudemio Marchesi de' Frescobaldi extra virgin olive oil — is fancier than most.
And the kicker, of course, is the cheese: 40-year aged Wisconsin cheddar infused with 24k gold flakes. Yes, 24k gold flakes.
Finally, this grilled cheese is topped with Hudson Valley foie gras and a sunny-side-up duck egg, plus lobster macaroni and cheese on the side. Because of course.
Here's another look at this ridiculous sammie beast: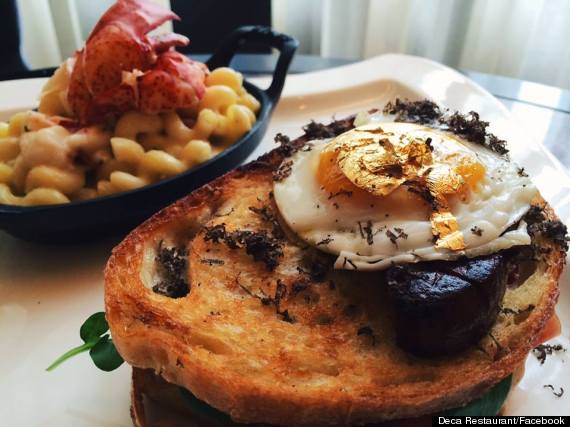 Despite the sandwich's lofty price, Eric Ciechna, a host at Deca, told DNAinfo Chicago the cost could actually be "a steal" considering the high value of all of its components combined.
Want to read more from HuffPost Taste? Follow us on Twitter, Facebook, Pinterest and Tumblr.
Link to article: www.huffingtonpost.com/2014/04/10/gold-plated-grilled-cheese_n_5125856.html?utm_hp_ref=travel&ir=Travel