Whither Ye Olde Stomping Grounds?
Not a single pay phone in sight in Washington, D.C.
It was a shocking discovery after a seven-year absence from my old stomping grounds.
I went visiting from abroad with a pre-paid phone card in hand that I'd used in New York and Philadelphia but Washington caught me unawares and I almost missed a lunch engagement with an old friend who I couldn't reach until I called her from another friend's office.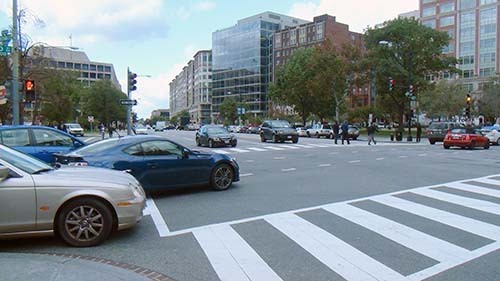 Not a pay phone in sight (Abu-Fadil)
Hey Washington, not everyone has unlimited use international cell phone lines or "locked" devices connected to a local network.
Mercifully, family and friends provided rides from and to suburban Bethesda where I stayed and took me to visit old and new sights.
Even calling a taxi without recourse to a pay phone was an ordeal.
So much has changed in the D.C. area. I remember when cell phones were a novelty in the U.S. while overseas people considered them second nature.
But other things haven't changed.
Bickering on Capitol Hill when I covered the House and Senate just went into overdrive, and visiting the city during the end of the government "shutdown" was revealing.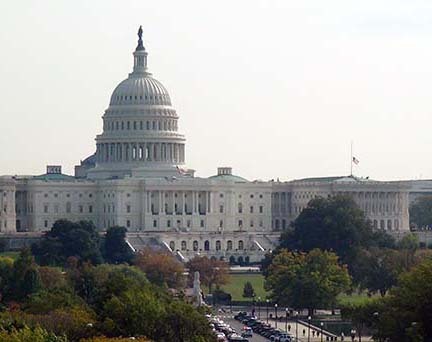 U.S. Capitol Building (Abu-Fadil)
But the eager young male policy wonks in chinos or khakis and dark blazers and the women in grey suits, sensible blouses, and sneakers for the city's hard sidewalks are the same, only one or two generations removed.
Gripes from workers short-changed by their employers were also a familiar refrain from the old days.
They resonate louder where lobbying groups make a living defending or attacking causes.
The White House, another place I once frequented as a journalist, was still there, attracting tourists and onlookers from outside its beautifully manicured lawns.
But Pennsylvania Avenue, the two-way street through which we drove in days gone by, seemed strange as a garrisoned, highly secured and camera-monitored pedestrian passage.

Once a two-way street (Abu-Fadil)
At least the museums reopened during my visit to enjoy some of their attractions.
Seeing an exhibition of Van Gogh Repetitions at the Phillips Collection on a crisp fall afternoon was delightful.
Other feasts for the eyes were the treasures in the museum's permanent collection, including Pierre-Auguste Renior's most popular work, "Luncheon of the Boating Party."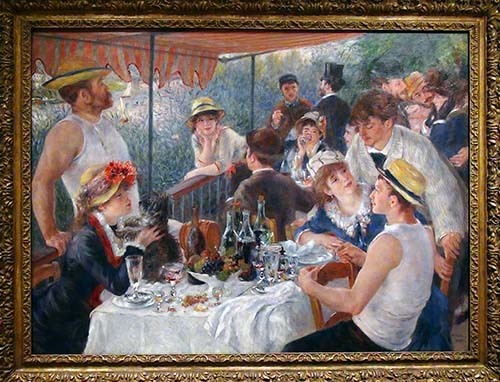 Renoir's "Luncheon of the Boating Party" at the Phillips (Abu-Fadil)
The Washington Monument, however, looked like an eyesore covered in metallic scaffolding due to renovation work.
The Mall area was also more cluttered than ever with monuments, museums and other structures jockeying for space.
A special location that brought back fond memories and seemed mostly unchanged was Annapolis.
Spending a day in this quaint town on Maryland's side of the Chesapeake Bay – home to the U.S. Naval Academy – and savoring the region's seafood specials was a delight.
I couldn't get enough of the crabs, scallops and oysters.
The jump in prices was another eye opener. While I travel a lot and have a chance to compare the cost of products and services, I often wonder how much components cost and what of the overhead and labor is charged to the consumer.
Walking in the Dupont Circle area of Washington I stopped at a bakery/patisserie and fancied what seemed like a very thin, simple three-inch bread stick to munch on. The dark contents in it resembled bits of olives.
So I asked the sales person about the ingredients and price. The dark specks were raisins and there was a pinch of walnuts.
"Three thirty-five," she said.
That's one dollar for every inch of dough with one raisin and one chip of a walnut. The 35 cents were presumably the tax on this delicacy.
After several nice meals reminiscent of my years in Washington, I'd tell myself that with time the calories become more difficult to shed.
Enter the colorful and less harmful veggie snacks.
Drives through the city streets also brought back memories.
Some hadn't changed an iota. Others were unrecognizable.
Downtown Bethesda has become a full-fledged city of its own. Gone are the days when there was one major chain supermarket, a few fast food joints, a couple of ethnic restaurants, and, an assortment of small shops catering to a mostly residential suburb.
The single time I took the metro on a one-way trip from downtown D.C. to Bethesda, I was penalized for being a one-time rider.
I paid an extra $1 for buying a paper ticket from the machine instead of having a package on a plastic card to cover multiple weekly or monthly journeys.
Another extra charge that didn't exist in my day was the 5 cents for plastic bags every time I bought something from a supermarket, drugstore or other shop.
If it contributes to protecting the environment, similar to what the Europeans have been doing for years, I'm game.
Sadly, not all family members and friends were there when I visited. A cousin had passed away in my absence as did two dear friends, and several other friends could not make a reunion.
You Can't Go Home Again, a novel by Thomas Wolfe published posthumously in 1940, rang a bell.
Link to article: www.huffingtonpost.com/magda-abufadil/whither-ye-olde-stomping_b_4252948.html?utm_hp_ref=travel&ir=Travel