8 Top Spots to Eat and Shop in Yucatan, Mexico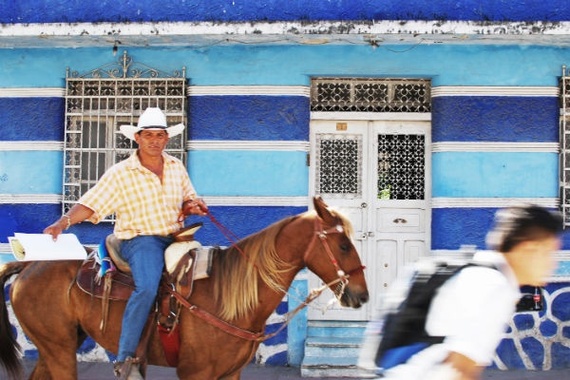 The colorful streets of colonial Valladolid. All photos by Lucy Laucht.
By Lucy Laucht for Fathom | My three great loves: travel, food, and shopping (the last of which I have become particularly adept at thanks to living in New York City). I recently swapped the polar vortex of the East Coast for the solar vortex of Tulum and nearby Valladolid in search of tacos, sun, sand, and some good old-fashioned retail therapy.
FOOD
Let me begin with an admission. I fell so in love with cochinita pibil tacos that they pretty much formed the basis of my diet for the entire trip (hey, salsa counts towards the five-a-day quota I'm sure). Here are a few local, inexpensive places to try the traditional Mayan preparation for pork.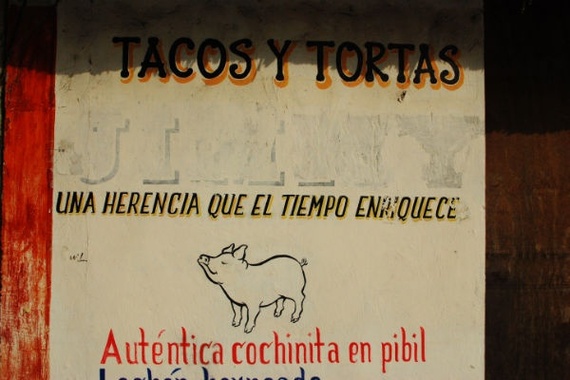 Cochinita pibil, a traditional Mayan dish of pork marinated in citrus juice and slowly roasted in banana leaves.
La Fonda Chiquita, Chencho's
Carretera Tulum Boca Paila Km 5.5, Tulum; no phone.
Tucked away on an unassuming side street opposite Mateos (look for the little craft market on the corner), this family run joint serves traditional Mayan food with a focus on fresh, local produce. They also serve the coldest, most refreshing beer, and the service is super friendly.
Taqueria La Eufemia
Carretera a Boca Paila Km 9, Tulum; +52-1-984-151-6979
This little taqueria located within Simple restaurant serves a variety of amazing tacos from 8:30 a.m.-5 p.m. After 5 p.m. try the fresh seafood at Simple.
Anonymous Taco Shack
Near the bus station, Tulum
Fancy it aint, but tasty it is. Look for the place directly next to the bus station. Ask for the cochnita pibil, it'll be the best ten pesos you ever spend. Go early as they run out mightly quickly.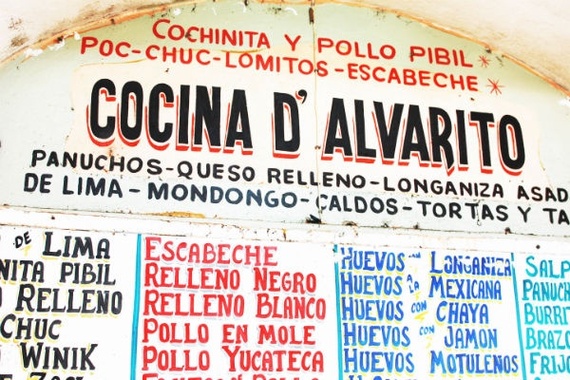 Food and drink at the Bazar Municipal in Valladolid.
Bazar Municipal
Calles 39 and 40, Valladolid; no phone.
A collection of hole-in-the-wall restaurants serving great, inexpensive fare where locals outnumber tourists and the chairs and tables are made of plastic. I have a theory: the ricketier the chairs, the better the food. Try the sopa de lima and grab a Coke in a glass bottle. Follow up with flan from the coffee shop.
SHOPPING
Beyond the tourist stalls of Tulum pueblo (which are stacked with colorful serapes, pottery, and leather bags), I found a few standout gems.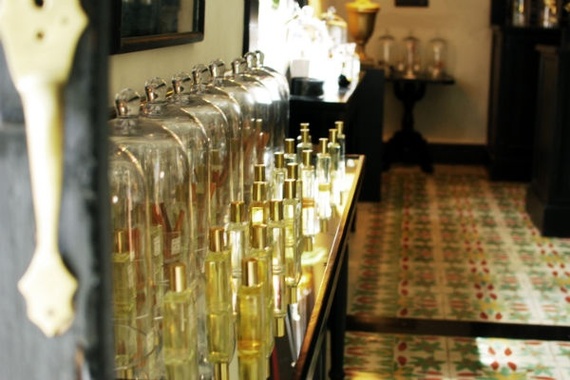 Perfumeria Coqui Coqui.
Coqui Coqui
Calzada de los Frailes, Calle 41a #207, Valladolid; +52-985-85-65-129
Carretera Tulum Boca Paila Km 7.5, Tulum; +52-1-984-168-1602
You'll want to touch everything in Coqui Coqui because the displays are beautiful. Signature perfumes are made from essential oils and native flora from the Yucatan Peninsula; try the Orange Blossom or Rosa Secas. The packaging alone is worth the purchase.
La Troupe
Carretera Tulum Boca Paila Km 7.5, Tulum; +52-984-133-5421
30 Calle and 5ta Ave., Playa del Carmen; +52-984-108-4797
Housed in a shipping container just off the main street, this well-edited selection of clothes, accessories, and home wares is perfect for nailing the Tulum Look (flowing embroidered kaftans, denim cut-offs, gold rings, and just-so beach hair.).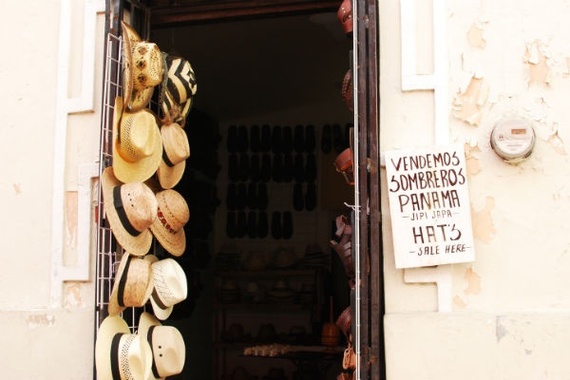 A leather and hat store in Valladolid.
Leather stores
Valladolid is in cattle country and therefore the place to find huaraches (a type of Mexican leather sandal), tooled leather bags, belts, and woven hats. Find many of the artisan's stores scattered along the streets leading off the main square of Catedral de San Gervasio.
Centro Regional de Artesanías ZACI
Calle 39 and 42, Valladolid; no phone.
This is a must if you're looking for a traditional huipil, the hand-embroidered white cotton blouse or dress still worn by many Mayan women. Situated in a peaceful courtyard off the main square, each tiny store is jam-packed with brightly colored designs, most of which are handmade onsite.
MAP IT
Read more on Fathom: Family Affair at Jashita, Cocina Under the Stars, Tulum Essentials
Fathom reinvents the travel website by mixing inspiring stories and practical destination guides with the best travel resources and products. Follow Fathom on Twitter, tell us about your travels on Facebook, and sign up for our weekly wanderlusty newsletter.
Link to article: www.huffingtonpost.com/fathom/8-top-spots-to-eat-and-sh_b_5077540.html?utm_hp_ref=travel&ir=Travel