Argentina, I was not entirely surprised to learn, is one of the largest countries in the world, and looking at it on the map, stretching way down to Patagonia and the very tip of South America, there's no reason to doubt it. If they could only get those pesky Falkland Islands back from the Brits, it would be even bigger.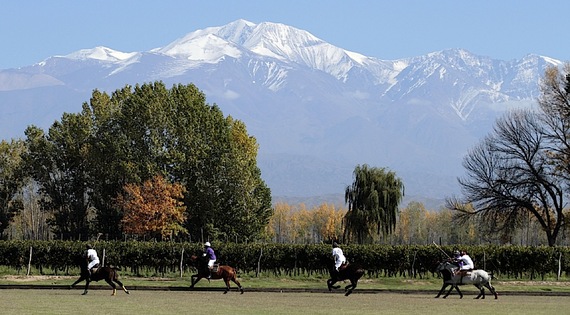 I've seen very little of it, but now I've seen Mendoza, whose existence these days owes much of its prosperity to the wine trade as well as a gastronomy based on beef, beef, and more beef. Americans may say "A day without orange juice is like a day without sunshine" but the Argentineans say, "A day without beef is unthinkable!"
Argentine beef, like European beef, is all grass-fed and not aged. So, the Argentine variety is never going to have that deep, fat-riddled quality that the best corn-fed, well-aged U.S. beef has. But Argentina's best is very very good indeed, chewy but good.
The city was settled in 1461 by Spain's Pedro del Castillo, and, despite the devastating earthquake of 1861, was rebuilt better and stronger. Today it is a city of broad avenues edged with irrigation ditches–the city's mantra is "Mind the Ditches!" Today, with wine and olive oil its principal industries, it brings in tourists who enjoy visiting the wineries, one of which, Bodegas Escorihuela, is located right in town.
Many beautiful parks throughout Mendoza make the city very appealing for both visitors and locals, and you can rent a bicycle at Bikes and Wine, then tour the parks for the whole day. The largest and most splendid is Parque General San Martin, named after the hero of Argentine independence — 1,200 acres (larger than NYC's Central Park) opened in 1896.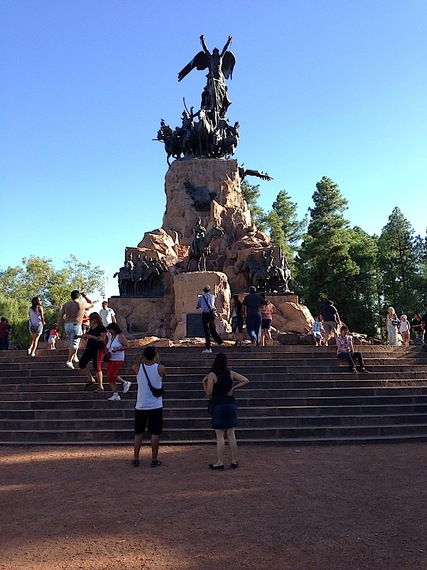 It is also a city of eight plazas that open up the center and allow for casual strolls and ice cream on a hot day. The Plaza Italia is dedicated to Italian immigrants who came to Argentina in huge numbers in the late 19th century. There's even a statue of Rome's founders, Romulus and Remus.
Compared with Buenos Aires, Mendoza is not a great shopping city, though it is very pleasant to walk down the broad Boulevard Sarmiento, free from cars and lined with boutiques and restaurantes and cafés of every stripe. (Given Argentina's current weak economy, there are plenty of bargains for those carrying U.S. dollars.)
Be aware that the Mendozans keep the tradition of the siesta, closing shops at 1 PM, and re-opening at 5 PM, which leads to a very late dinner hour.
The Park Hyatt Mendoza, considered the city's best hotel, has every modern amenity, not least wi-fi access (not always easy to find in Mendoza) and a highly helpful business center. Bistro M here offers an extensive buffet breakfast in the morning. Grill Q is a beautiful, sunny spot to introduce you to the Argentine parilla, which features — as you might guess-an array of cuts of beef and other meats, done in front of you on the grill and sliced to your request, accompanied by a wide array of vegetables, and an outstanding wine list of 4,500 regional labels.
Within blocks of the hotel are two well-regarded restaurants, one named Francesco Barbera set up for delightful al fresco dining. The chef here is 86-year-old woman named Maria Teresa, as spry as ever she's been in the 60 years she has been cooking. I found the menu quite traditional Italian, except for the Argentine empanadas, and of course there is beef in several versions. We went at 8 PM and the place was dead; when we left at 11, it was packed.
In the other direction lies the best restaurante in a far more modern style, Azafrán, opened in 2001 in a space previously a delicatessen. Here Chef-manager Pablo Ranea is doing what he calls "New Argentinean Cuisine," taking the traditions of the country's gastronomy and playfully updating it and presenting it in stunning new ways. The restaurant also has within its space a wine room where you can pick out and purchase bottlings from a stellar array.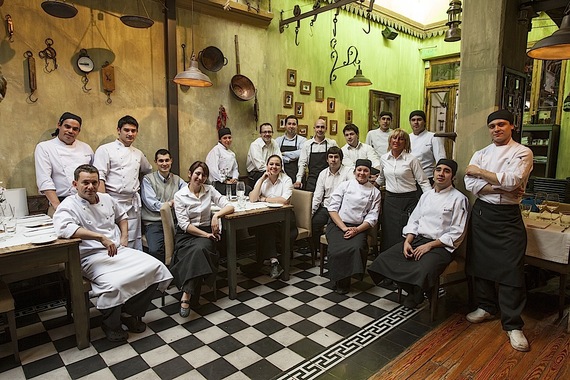 I allowed Ranea to choose my meal and was impressed by what came from the kitchen, beginning with crispy olives stuffed with goat's cheese that popped in the mouth. Warm Camembert was served with fresh peach and shallot-studded vinaigrette, then came a trio of empanadas — sweetbreads with mushrooms, onion, and blood sausage with parmesan. My appetite had not yet flagged, so next up was shell pasta with smoked eggplant purée, mushrooms au gratin, truffle oil, and parmesan cheese. Of course there was beef — a six-ounce tenderloin with blue cheese, spinach and mushrooms in crisp filo dough, with a sweet potato puree, shallot and roasted red bell pepper sauce.
For dessert I enjoyed a cream cheese pie with raspberries, Malbec and fresh grapes, and dulce de leche (a ubiquitous caramel spread Argentineans are addicted to) crème brûlée with rice pudding and biscotti.
We had another outdoor meal at 1884 Restaurante within a winery, in the Godoy Cruz neighborhood. Here master chef Francis Mallmann prepares his famous seven-hour grilled lamb, cooked in a mold. The restaurant, built in the Spanish style, was opened in 1996 by Dr. Nicolas Catena Zapata, head of one of the country's most extensive wine holdings, and it draws from the best agricultural products it is possible to produce or buy.
On a winery visit well outside of the city, I stopped for lunch at a very popular pulperia, an old-fashioned bar where caballeros would stop to refresh their horses and themselves. Today La Juntada is a darling, rustic restaurant where the meats are cooked outside–beef, lamb, goat — and brought sizzling to the rough-hewn tables, along with salads and empanadas. One particularly savory empanada contained scallion, onion and bacon, and there was a tasting of regional products like cheese, salami, olives and marinades of turkey and hen.
The goat ribs were succulent to the bone, then came the even more delicious piglet with mahogany-colored crisp skin and silky, fatted meat underneath. Desserts included pears–then in season and bursting with flavor — soaked in Malbec wine.
Prior to visiting La Juntada, we had been in a high altitude vineyard owned by the Alamos winery, where, along with delectable little fried tortas I sampled a national obsession, a tea-like drink called mate, which has a ritual about it as rigorous as high tea in London. You place a couple of teaspoons and sugar into a little wooden cup, pour boiling water down the side, let it steep then drink it through an ornate, decorated silver straw. To me it was a fairly bitter taste not acquired on the spot, but no one should visit Mendoza without taking a crack at mate.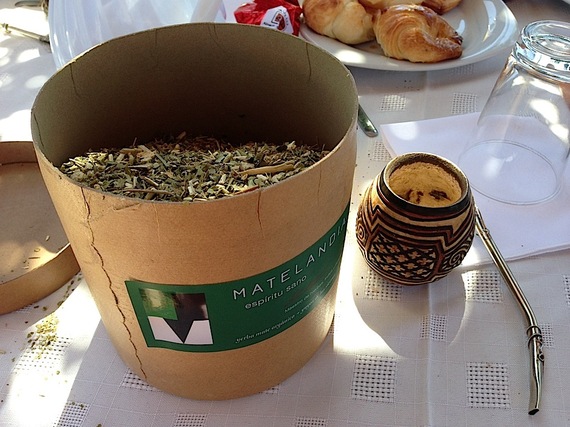 Link to article: www.huffingtonpost.com/john-mariani/beefing-up-in-mendoza-by-_b_4283857.html?utm_hp_ref=travel&ir=Travel