Moonwalking Shetland Pony Looks To Lure Tourists To Scotland (VIDEO)
Remember these guys? Well, they've made a friend.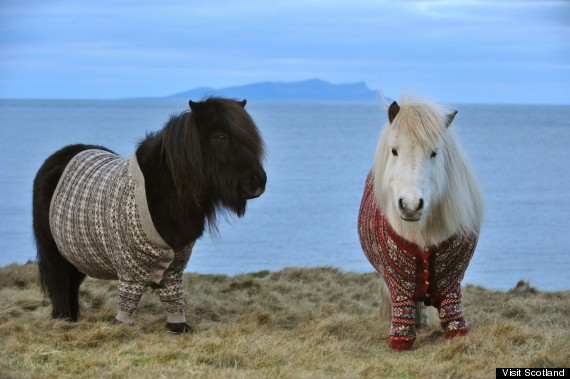 Everyone, meet "Socks", the moonwalking sweater-wearing Shetland pony. See, Socks is something of a celebrity in the United Kingdom. He's famous for his dancing exploits after teaming up with Three Mobile, a cellular provider in Scotland.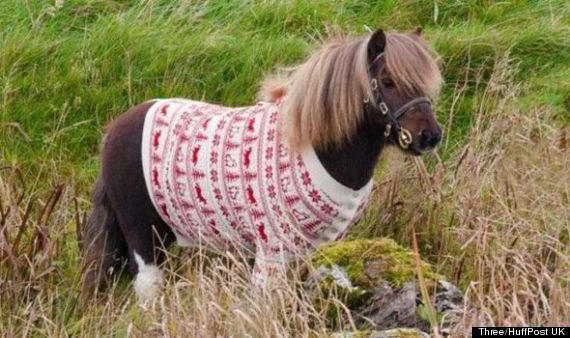 Now with the holiday season fast approaching, Socks has teamed up with VisitScotland and Promote Shetland for "The Knitwear Before Christmas" campaign. Together, they're producing "The Christmas Pony", a festive take on the 71 seconds of pure pony dancing joy, only this time, with 100 per cent more Christmas cheer.
Socks will also don a Fair Isle Christmas sweater decked out in ads as part of the project. The sweater will be created by Doreen Brown who designed the original cardigans used in the first promotional photos, the Evening Standard reports.
Back in January, VisitScotland launched their "Year of Natural Scotland", an initiative to promote the country's "outstanding natural beauty" as well as highlight the region's strong knitting traditions. Naturally, Shetland ponies wearing sweaters were a perfect fit and the campaign became a viral hit. Now the tourism board is hoping to recapture that magic, according to Steve Mathieson, VisitScotland's island manager.
"The sight of Socks strutting his stuff on Shetland captured the imagination of millions and helped thrust the Northern Isles into the global spotlight," Mathieson told The Scotsman.
"We are delighted to see that he is once again showing off not just his dance moves and new Fair Isle knitwear, but also the spectacular scenery of this unique and magical part of the world."
What do you think of the campaign? Adorable or has VisitScotland become something of a one-trick pony?
Like this article? Follow us on Twitter
Follow @HPCaTravel
Link to article: www.huffingtonpost.ca/2013/11/29/moonwalking-shetland-pony-scotland_n_4360709.html?utm_hp_ref=travel&ir=Travel