Our Girl in Havana: A City for Cinephiles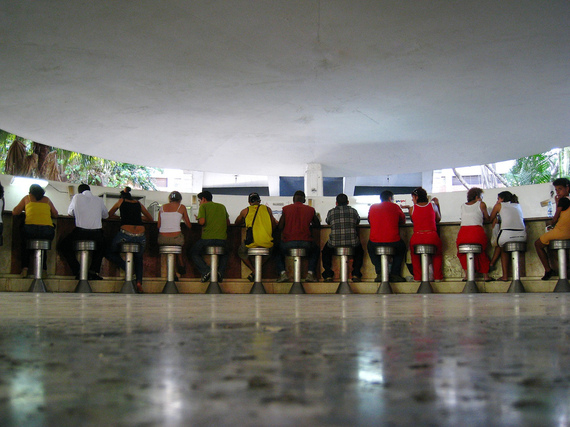 Coppelia — Photo: BitBoy | Wikimedia
Eating my ice cream at Coppelia, I can't help but think of the striking first scene of Oscar-nominated 1993 Cuban film Fresa y Chocolate. The title refers to flavors of ice cream, one representing the gay and creative while the other represents the straight in both sexual and political terms. In that fantastic opening seduction scene, set in Havana's most famous ice cream parlour, Diego eats his strawberry ice cream with all the innuendo possible, and it's delicious to watch. You can visit Coppelia yourself, which at peak times has queues around the block, and they still sometimes have just two flavours of ice cream.
Fresa y Chocolate is Cuba's most famous and internationally acclaimed film to date. Part of the film's success was in its daring critique of the Cuban government and the confrontation of the ingrained homophobia of the time, but for international audiences it was as much about the magical way in which it conjured the chaos and beauty of Havana life.
Visitors to Cuba began making the pilgrimage to the apartment of Diego — fabulously played by Jorge Perugorria — wanting to walk through the towering wooden doors into the airy colonial courtyard and to see the room itself, where the bulk of the action takes place, as crowded with antique bric-a-brac and religious iconography as with the chemistry between the two men.
In 1996, the enterprising owner turned part of the building into paladar La Guarida, which still offers one of the best meals in town. In Vedado, there is also a bar in homage to the film. Fresa y Chocolate is a hip hangout for local film students with red director chairs to lounge in and film paraphernalia plastering the walls. The Cuban Institute of Cinematographic Art and Industry (ICAIC) headquarters is adjacent, where you can also pick up film posters, rare DVDs and see exhibitions.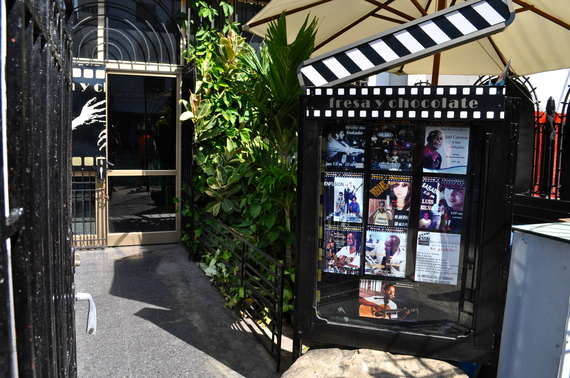 Fresa y Chocolate bar – Photo: Tyler Wetherall | All Rights Reserved
Located on Calle 23, this is cinephile central with the Cine Charlie Chaplin opposite (one of the biggest art house cinemas in Latin America) and the small cinema Calle 23 y 12, which screens one Cuban movie a day. The nearby tapas bar, Cafe Madrigal, is the next stop for movie buffs — in the turn-of-the-century home of charming filmmaker Rafael Rosales, he named it after his much lauded movie Madrigal. In keeping with the cinematic theme, the lampshades are made of sound umbrellas and they play famous soundtracks in the background, though it's the welcoming atmosphere as a place for the like-minded to meet that make it popular.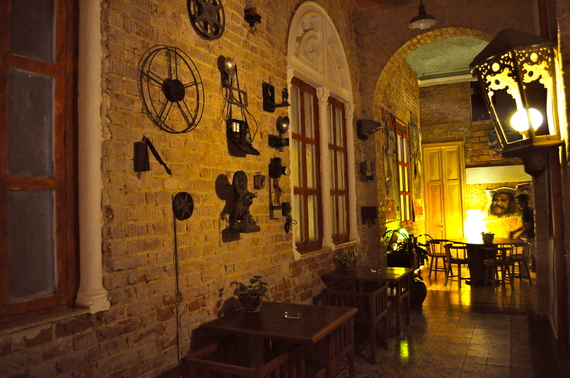 Cafe Madrigal – Photo: Tyler Wetherall | All Rights Reserved
Cuba has a rich history of excellent film making. Fresa y Chocolate was just one in a long line of art house movies created with the assistance of ICAIC that has made Cine Cubano famous world over. Established in 1959, ICAIC was part of the government's program to educate Cubans and support Latin American cinema. In its heyday, it nurtured acclaimed directors such as Humberto Solás and Fernando Pérez. Increasingly however, Cuban films are independently financed and digitally filmed to avoid the limitations imposed by the institute.
Cuba is also home to the Havana Film School, which lists Soderbergh and Spielberg amongst its fans. The initiative of director Julio García Espinosa, novelist Gabriel Garcia Marquez, and Fidel Castro, they wanted to create, in Garcia's words, a "factory of creative energy." Designated a non-government organization, it does not actually count as Cuban soil, therefore Americans could bypass the travel ban and study here too. I met dozens of American film students in the city, and sometimes it feels like every young person in Havana is a film fan or critic.
For any lover of cinema, a fantastic time to visit is during the annual Havana Film Festival. For the first two weeks in December, the entire city is gripped with film fever, and the often dilapidated and sweltering art nouveau cinemas are packed day and night hosting screenings of the best cinema Latin America has to offer.
Those visiting outside the festival should go to the prestigious Ludwig Foundation to discover the emerging art scene of Cuba. They host a daily exposition with talks from every discipline including film.
But anytime you wander through the city you're likely to stumble into a film event, a home cinema hosted in a local's front room or just a group of friends discussing the classics over a cafe cubano.
Tyler Wetherall is a freelance travel writer and editor, and columnist for U.S.-Cuba travel experts Insight Cuba, providing legal travel to Cuba for Americans.
Link to article: www.huffingtonpost.com/tyler-wetherall/our-girl-in-havana-a-city_b_4658699.html?utm_hp_ref=travel&ir=Travel