The West Bank is small (about 30 miles wide and 80 miles long). Every place we're visiting for this episode is — barring delays at checkpoints or other disturbances — within a 90-minute drive of Bethlehem.
Introducing Palestine to our American television viewers, we'll begin our new episode with this montage: "We'll visit Jerusalem — sacred to Christians, Jews, and Muslims, and considered by Palestinians to be their historic capital. We'll harvest olives, make a home visit, see the tomb of Abraham, learn to wear a scarf with style, follow pilgrims to the place of Jesus' birth, bob in the Dead Sea, hike to an ancient monastery in the desert, and feel the energy of an emerging economy. Along the way, we'll learn about walls, settlements, and the challenges facing the region."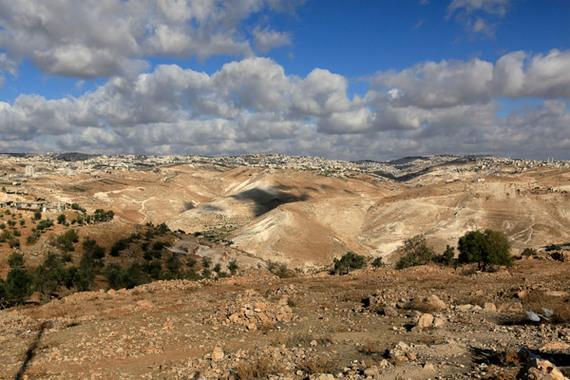 We needed a single viewpoint that said "Palestine" to kick off the show…and this was it. We were rushing to a monastery in the desert, but screeched to a halt when we saw this in the dramatic morning light, just after a light rainfall to clean the generally dusty air, and with some puffy clouds to give it punch. The frame was absolutely perfect, but it was right by the road — and after half an hour of trying to film the "on camera" without a thunderous truck going by, we decided to move on, thinking we'd find something else just as good. We didn't, and days later, we drove all the way back from Ramallah to reshoot it here. The light was nowhere near as good…but it worked. Looking into the camera, I said, "We'll visit the West Bank of the Jordan River — a land its residents call Palestine. While Israelis and Palestinians have overlapping claims and struggle to share it peacefully, the West Bank has a rich and fascinating heritage well worth exploring."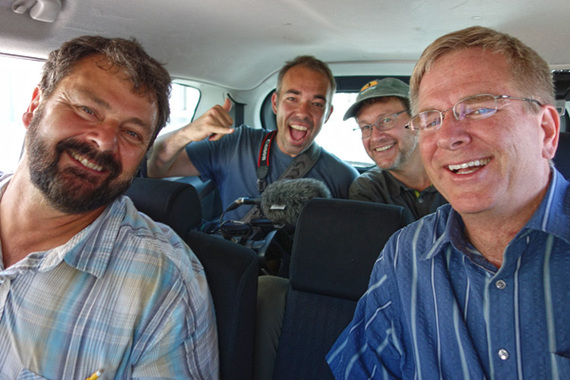 With a driver, a local guide, and a second cameraman, our standard crew of three was expanded to six in Palestine. And we could just barely fit in the biggest car we could get. Still, our driver was great, and having Dean, the second cameraman, was a God-send. (I capitalize that word in the Holy Land — because even many non-religious types notice God's presence here.)

Last April, as I was scouting for this shoot, my guide stopped at this little roadside coffee stand at the edge of Bethlehem, and I thought: perfect for TV! We came back and filmed it, saying, "The local drive-through coffee shop, for a hit of local-style coffee, is part of any good Palestinian road trip." (I got to drink three coffees for three takes.)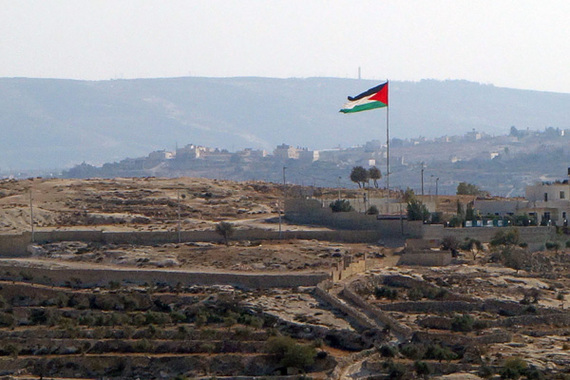 As much as I believe in Israel, I believe in Palestine, too. America knows and loves Israel. Israel has powerful advocates in the USA and is well-covered by our media. And Israel is very well-funded. If you played word-association with most Americans and said the word "Palestine," you'd get "terrorism" as a response. That's understandable. But my hunch is that Palestine has learned that violence is not the answer. Following a rash of suicide bombings in the early 2000s, it has now been more than five years (April 19, 2008) since an extremist from Palestine has resorted to violence within Israel. I firmly believe that those who care about Israel will learn that security, dignity, and independence for Palestine is actually in Israel's best interest — part of the long-term, sustainable solution to this region's troubles.
I'll continue this Holy Land Facebook series until November 21st. Then, to celebrate my homecoming, I'll give a live, free slideshow lecture on Thursday, November 21st at 7 p.m. P.S.T. in Edmonds, Washington. You can attend in person (registration required)…or watch the live webcast from anywhere in the world (no registration required). Learn more at Rick Steves – Holy Land: Israelis and Palestinians Today.
Link to article: www.huffingtonpost.com/rick-steves/this-is-palestine_b_4241828.html?utm_hp_ref=travel&ir=Travel